Lynette White case: Angela Psaila 'made to stab' body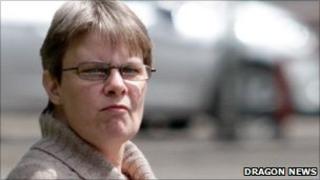 A witness to the murder of Cardiff prostitute Lynette White was forced to stab her, a court has heard.
Angela Psaila, 46, was made to take part in the 1988 killing in order to ensure her silence, a defence counsel told Swansea Crown Court.
But Ms Psaila, whose evidence 13 years ago helped to jail three innocent men, dismissed the claim as "rubbish".
Eight ex-police officers deny conspiracy to pervert the course of justice. Two other people deny perjury.
Lynette White, 20, was murdered in Butetown in Cardiff on St Valentine's Day in 1988.
The three men wrongfully jailed for her murder, who became known as the Cardiff Three, were set free by the Court of Appeal in 1992.
In 2003 advances in DNA led police to Jeffrey Gafoor, now 46, who admitted murder and was jailed for life.
The eight ex-police officers have been accused of manufacturing a case against the three innocent men.
The prosecution has argued that they made up their minds who had been responsible and then made the evidence fit.
Ms Psaila gave evidence at a committal hearing and then at two crown court trials naming the people she claimed to have seen kill Miss White.
She said at the time that she was forced to stab Miss White herself to ensure she would not tell the police what she had seen.
In 2008 she admitted a charge of perjury and was sent to jail.
Ms Psaila said she was now telling the truth that she had been at home babysitting when Miss White was stabbed more than 50 times.
She has told the court that the statements had been composed by the police and that she signed them after being threatened.
William Coker QC, representing former Det Ch Insp Graham Mouncher, put it to Ms Psaila that she had been telling the truth in 1988 and had, in fact, witnessed the killing.
He said it "gnawed and gnawed" at her conscience until she told detectives what she had seen.
Ms Psaila replied: "That's rubbish. How many more times must I repeat to you and the people in court. I never took part in any murder.
"I did not leave my flat that night. I did not see the killing."
The trial continues.