Olympics 2012: Cultural events mark countdown in Wales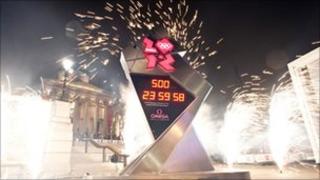 Wales' countdown to the Olympics is starting with events marking a year-long run-up to the London Games.
A cultural Olympiad by heritage body Cadw hosts projects across north Wales, including a celebration of medieval sports at Conwy Castle.
Big screens in Cardiff and Swansea are showing Olympic and Paralympic films, footage and interactive games.
Wednesday marks a year to the Games, and Welsh ministers hope the events will "inspire and engage" young people.
Across the UK, towns, cities and heritage sites are marking the "One Year to Go" countdown to the Olympic and Paralympic Games with the London 2012 Open Weekend.
In Wales, the weekend includes two 16-hour days of screenings on big screens at The Hayes in Cardiff and Castle Square in Swansea.
The films and footage, similar to those being shown being at Trafalgar Square in London, include live information, video, and news about the Olympics.
Flashmob
It also includes the chance for audiences to take part in the interactive game Swim Wenlock Swim, with motion sensor cameras comparing the results between cities taking part.
Meanwhile, Cadw's own Power of the Flame Cultural Olympiad initiative, Cauldrons and Furnaces, is formally launched at Ucheldre Centre in Holyhead at 14:30 BST.
The programme, in partnership with the Arts Council of Wales, includes a variety of events including storytelling, community art workshops, dance, music and creative craft activities.
Three north Wales castles - Flint, Harlech and Caernarfon - are staging events on Saturday.
At 15:00, Flint hosts a work by young dancers from the county. Harlech has a flashmob staged by 20 local primary and secondary school pupils.
Caernarfon has a kaleidoscope art exhibition, from 11:00 to 15:00, created by pupils at six local schools.
A flashmob is also being held in Flint High Street, at noon and 13:00.
'Inspire and engage'
Cadw's cauldrons and furnaces theme is picked up on Sunday at St David's Bishop's Palace, Pembrokeshire.
A tour between 11:00 and 14:00 tells visitors about the secrets of the building and of saints.
Heritage Minister Huw Lewis said: "As the excitement around next year's Olympic Games continues to build, we are delighted to welcome back the Open Weekend Cauldrons and Furnaces programme as part of Wales' cultural contribution to the Olympiad celebrations.
"The series of events and activities aim to inspire and engage with the children and young people of Wales, not only demonstrating what can be achieved creatively, but also deliver a lasting legacy of inspirational work of the people of Wales beyond the Olympics.