Welsh Cavalry memorial unveiling at National Arboretum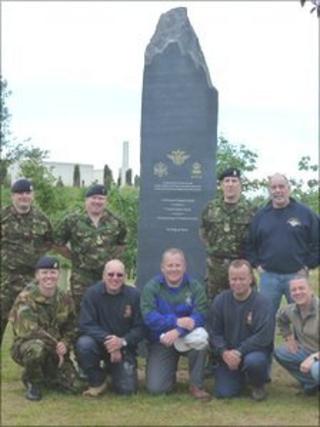 A memorial made from Welsh slate has been dedicated to soldiers from a regiment known as The Welsh Cavalry at the National Memorial Arboretum.
Nearly 200 members of the 1st The Queen's Dragoon Guards were at the service in Staffordshire on Sunday.
Colleagues died on duty since World War II are honoured on the memorial by the regiment which recruits soldiers from Wales.
It has been paid for by members of the comrades association.
The three-and-a-half tonne slate memorial is in the form of a standing stone that is 12ft (3.7m) tall.
It also pays tribute to soldiers killed while serving the regiment's predecessors - the 1st King's Dragoon Guards and the Bays (2nd Dragoon Guards).
The slate was donated by the Inigo Jones Quarry in Blaenau Ffestiniog in Gwynedd and dressed and carved by Mossfords Memorial Stonemasons of Cardiff.
The Welsh Transport Regt RLC moved it to the site and helped with placing it in position.
The National Memorial Arboretum in Staffordshire was created in 1997 over 150 acres and remembers members of the armed and civil services who have died serving their country.
Next week soldiers from the 1st The Queen's Dragoon Guards will resume training for their forthcoming tour to Afghanistan.
Last month they took part in a week-long live firing exercise at the Castlemartin Range in Pembrokeshire in preparation for the mission.