Kirsty Jones murder: MP criticises Thai police inquiry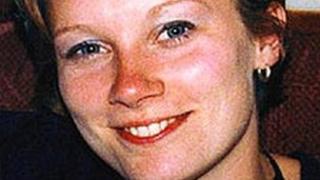 An MP has criticised Thai police over their handling of the investigation into the murder of a Welsh backpacker 11 years ago.
Kirsty Jones, 23, from Tredomen, near Brecon, Powys, was raped and strangled at a guesthouse in Thailand in 2000.
Roger Williams claimed the Thai force had not acted quickly on possible new evidence after a YouTube video named a man allegedly seen near the guesthouse.
The Thai Embassy in London has been asked to comment.
Dyfed-Powys Police said both they and the Foreign Office had asked Thai authorities to investigate the claim.
Mr Williams, Liberal Democrat MP for Brecon and Radnorshire, said the accusation had been online "for some time" and the Royal Thai Police had been asked to test existing DNA evidence against the named suspect.
He said this would either implicate the person or eliminate him from inquiries.
"I would like to pay tribute to Dyfed-Powys Police, in particular the officers who have been very supportive of the family, as you can imagine the trauma that they are still going through.
"No-one can be satisfied with the standard of investigation by the Royal Thai Police and Dyfed-Powys Police have been very frustrated with the work that they have done.
"I don't think anyone can be that confident [in the Thai police]. The fact remains that some evidence does exist and it's in their possession.
"We don't believe that that is being used in a very competent manner. If this DNA was tested we would have more confidence that the Thai police are being as rigorous as they should be."
Despite a number of arrests, no charges have ever been brought over Ms Jones's death.
Ms Jones, a Liverpool University graduate, was found dead in a room at the Aree guest house in Chiang Mai, which is north of Bangkok.
She was three months into a two-year around-the-world trip.
At the weekend her mother Sue Jones said of the possible new evidence: "It's something we have been aware of for quite a while now... we are still awaiting the Thais to DNA [him].
"Obviously if it is him that will be a good thing. If it isn't, it eliminates him from the investigation."
The family want a representative from the British authorities to be present at the DNA test "so that we could be absolutely sure it is done properly," she said.
Dyfed-Powys Police have assisted Thai police with the investigation in the past.
Det Ch Supt Steve Wilkins said the force was aware of allegations made in the video.