Four-in-five Welsh breastfeeding mums 'forced to quit'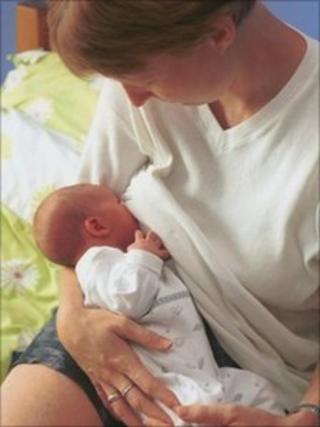 Four-in-five new mothers in Wales feel forced to quit breastfeeding to get back to work, a survey claims.
Fewer than 20% said they felt they had the backing of their colleagues or bosses to continue breastfeeding, said health products firm Phillips Avent.
A GPs leader said firms should discuss the issue to see what facilities can be made available to working mothers.
The Welsh Government said it backed breastfeeding at work and in public.
The UK-wide survey of nearly 2,800 mothers found Wales was the fourth worst place in the UK for mums to breastfeed in public.
A total of 29% said they hid in public lavatories when they had to feed their baby in public.
More than two-thirds of those survey said they were "blatantly stared at" when they were breastfeeding in public.
Only 16% said they felt supported by colleagues and their employer to breastfeed at work.
Breastfeeding advisor Vicki Scott said it had "such positive effects for both baby and mum".
Not an option
She said: "Breastfeeding is something to be proud of and mums shouldn't hide away.
"Mums getting out there and doing it is the only way to shift attitudes again so that breastfeeding is seen as the norm that it is!"
Siona Murray, a volunteer coordinator for around 150 households in Gwynedd and Conwy for the parenting charity National Childcare Trust (NCT), said mothers had told her that breastfeeding at work was not an option for them.
She said: "It's not something that they would be able to choose to do, no.
"The facilities would not be there. There's a general lack of awareness. They would not be able to express as they need to.
"The way the working day is structured, they would not be able to take the time out to express and still be able to do their job.
Doctors in Wales have long backed moves to encourage breastfeeding mothers.
Swansea GP Charlotte Jones, who sits on BMA Cymru's GPs committee, said she understood that it was difficult for all employers to facilitate a breastfeeding employee but would encourage them to do so.
'Support breastfeeding'
"Breast milk continues to be the best for feeding babies. The alternative formulas are getting better and we support women in their choice for their baby," she said.
"We would encourage employers to work with their working mothers, where possible, either through providing a quiet room where they can express some milk or to have an open discussion with their employee."
The Welsh Government said 456 organisations, including primary schools, shops, cafes and leisure centres, had joined the Breastfeeding Welcome Scheme.
A spokesperson said: "If we are to achieve our aim of increasing the number of women who breastfeed, it is important that mothers are able to breastfeed their babies in a range of settings.
"We have issued guidance to employers to remind them of their legal obligation to provide support for breastfeeding mothers, and encourage them to draw up policies to support breastfeeding that includes breaks and privacy for expressing, fridge storage for expressed milk and flexible working hours."