Chepstow-built bridge opens year after Pakistan floods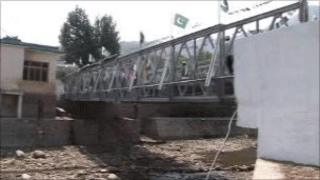 A year on from the floods which devastated parts of Pakistan, the first of 12 bridges built by a Chepstow company has opened.
Mabey Bridge said it had supplied the bridges to the Swat Valley area, some four hours drive from Islamabad.
The Department for International Development said the new structures had made a positive impact on the area.
It is a year since Pakistan was hit by the worst floods in its history.
At least 18 million people were affected from Swat in the north to Sindh in the south.
Across the country there has been massive damage to the infrastructure and people have struggled to find food.
Transforming lives
George Turkington, of the Department for International Development, said a bridge opened on Thursday was the first of 10 funded by the British taxpayer, which would help people across the Malakand Division in the Swat Valley.
He said the bridge was transforming lives.
"We've spoken to school children. We see lots of economic activity, buses, cars, motorbikes," he said.
"It's just great to see the transformative impact that a single bridge can have.
"It really is contributing to economic regeneration right here in the heart of the Swat Valley."
Mabey Bridge said the bridges built for Pakistan, called the Compact 200, were based on the Bailey bridge, which played a key part in the allied advance during the World War II, and in the reconstruction efforts that followed.
A company spokeswoman said: "The criteria for the replacement bridges was that they should be capable of rapid erection, be suitable for use in areas of seismic activity and be of a type already familiar in this area of Pakistan. "