Shale gas fracking: UK government policy call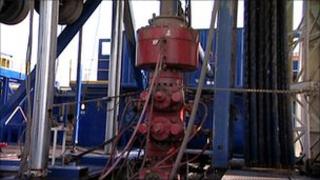 Shadow UK Energy Minister Huw Irranca-Davies has called for the UK government to devise a policy on shale gas.
Potential multi-million pound reserves lie under in south Wales but its claimed an extraction method called fracking causes pollution and could lead to earthquakes.
The Ogmore MP says the gas could help supply energy needs but must be handled safely.
The government says attempts to drill for it must be environmentally viable.
Mr Irranca-Davies Davies told BBC Wales Country Focus programme that he will continue to put pressure on UK Energy Minister, Charles Hendry over the issue.
It comes after research by exploration companies found a potential £70bn of reserves in rocks deep under south Wales and numerous planning applications have been submitted for test drilling to be carried out.
Wind and renewables
Fracking began in Blackpool this year but has been suspended while a review looks into any link with two recorded earthquakes.
Mr Irranca-Davies said the UK Government must embed shale gas in its wider energy policy.
"The reason is that if you look at anything else, whether it's nuclear, whether it's oil industry, whether it's wind and renewables or even tidal they all fit within a proper coherent policy structure.
"Whereas, with shale gas, we have the risk it will take us unawares."
However, he is not against shale gas exploitation altogether.
Health and safety
"A lot of people recognise that there may well be potential for shale gas. Particularly if you look at the decline in North Sea Gas and our increasing reliance on imported gas -- LNG and elsewhere, pipelines from Russia, pipelines from Norway -- this could have potential."
He added: "If shale gas, for example, can be part of our transition to a low carbon future and can provide cheap affordable gas, as it has done in the US, then great.
"But only if it is done safely, if there's no environmental impacts and the health and safety of individuals in the areas are looked after as well. Why doesn't the government look at this and decide how do it safety, if at all?"
"We'll keep on pushing for it because I don't want to rule out shale gas entirely -- although I know there are some people who would want to see it completely prohibited.
"But I don't agree with them because I think we need to assess both its potential and its risks properly."
The Department of Energy and Climate Change has said companies must go through a variety of checks, including gaining planning permission before any fracking takes place.
Earlier this month Vale of Glamorgan council leader, Gordon Kemp, called for national level guidance on shale gas extraction.
The Welsh Government has also said it would welcome working with UK ministers to set up a policy framework.
A spokesperson said it "would welcome the UK Government working with devolved administrations to put in place a policy framework for shale gas. But the case for a moratorium rests with Westminster."