Public Health Wales warns of risks from poor literacy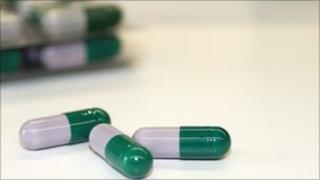 A lack of basic reading skills could be putting vulnerable people's health at risk in Wales, according to a new report.
Public Health Wales has put forward a plan for the NHS to better understand the "health literacy" of patients.
Problems range from being able to understand and act on health literature to being able to express symptoms to GPs.
The plan aims to help people to better manage their health.
Professor Sir Mansel Aylward, chair of Public Health Wales (PHW) and lead expert for the report, said they had published a "forward-thinking" plan.
"If we are able to improve health literacy, Welsh residents should need fewer hospital visits and shorter stays," said Prof Aylward.
"This in turn should lead to savings for the NHS in Wales and a healthier population."
PHW, which provides health advice and services within the Welsh health service, was commissioned by the Welsh Government to produce the report in April 2010 and it has set out its plan.
As well as basic reading, writing and numeracy skills, the report also indentifies patients' "motivation, ability and confidence" to make informed decisions on their health.
Those at particular risk are seen as the elderly, those with limited education, ethnic minority groups, and those with English as a second language.
It finds that although health bodies were conscious of the need to use basic English in literature, this may not go far enough in reaching those with poorer reading skills than the average 11-year-old - which could be 25% of the population.
The report highlights the success of work with patients with chronic conditions to self-manage and understand their illnesses better, which in turn can lead to fewer visits to doctors or outpatients.
It also points to an existing programme which aims to ensure every prescription issued in Wales has clear advice on how the medicine should be taken.
Other examples of good practice include cardiac patients being used to tell their stories to others at Aneurin Bevan Health Board and 30 community pharmarcies in Gwynedd developing health technology points.
The plan, which is part of the public health strategy for Wales, proposes in-depth questionnaires to continually analyse the level of health literacy in Wales.