First solo show for Neath artist James Mills aged 99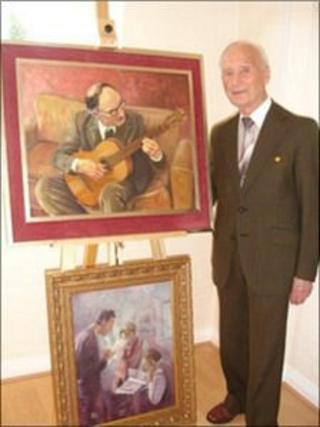 An artist is celebrating having his first solo exhibition of his work - at the age of 99.
James Mills, who will be 100 on 12 September, is having his oils and watercolours exhibited at a gymnastics club in Neath.
Among the works on display at Neath-Afan Gymnastics Club is a sketch from 1930.
Mr Mills, who still picks up his paint brush an hour or two a day, said his commisions now are "made to order".
"It has been a long held ambition of mine to have a solo exhibition of my work so I am delighted that I have finally been able to achieve it, he said.
He uses mediums including acrylic and watercolours, but says he prefers to paint in oil and watercolours.
After the death of his wife Violet, the former marine engineer moved to Cimla, Neath from Barry, Vale of Glamorgan in 2002 to be nearer to his son Roger and his family.
He only started painting at the age of 57.
As a resident of Barry, he joined the Baruc Art Society and the South Wales Art Society, through which he was able to develop his love of painting.
'Very sprightly'
He exhibited many paintings through these groups, winning prizes, including the Saunders Waterford Watercolour Painting competition in 1990.
A portrait of Prince Charles in 1980 was later bought by Barry Town Council to hang in the central library.
According to Mr Mills' grand-daughter Nicola Lewis, who arranged his solo exhibition, Prince Charles has seen the portrait and was extremely impressed.
Among the artist's other works are portraits of Welsh sports stars Jonathan Davies and Colin Jackson and actor Ruth Madoc.
Mrs Lewis said she was happy to arrange this exhibition for her "very sprightly" grandfather, who was still skipping at the age of 90.
"I had promised for a very long time that as soon as I had opened our long planned gymnastics centre I would give a weekend over to his exhibition.
"Finally that has come to fruition, so a very exciting time for us all."
They are now busy planning a "mega-party" for Mr Mills 100th birthday which will be combined with other family celebrations in six weeks time, she said.