Extra £200,000 funding for mountain rescue teams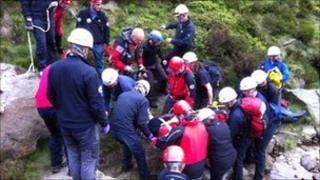 Mountain rescue teams in Wales will be able to apply for extra funding made available by the UK Government.
Chief Secretary to the Treasury, Danny Alexander, said £200,000 was being set aside.
Of that, Wales and England will share £124,000 towards the cost of procuring mountain rescue equipment this year.
The Mountain Rescue Council for England and Wales said it had not been told how the grant system would work, or if it had "conditions" attached.
There are 75 teams eligible for funding across the UK, of which 48 are in England and Wales.
If divided equally between the teams in England and Wales, one rescue team member based in Wales said the approximately £2,500 would be "about a tenth" of the annual running costs.
The team member, who did not wish to be identified, said all mountain rescue groups worked voluntarily, and any funding would be useful, but added: "It costs generally about £25,000 a year to run a team, so it's about a tenth of the way there.
'Keeping people safe'
"In Scotland, I understand the mountain rescue teams get their running costs paid for by the Scottish Parliament, and that's a situation we want in place in Wales and England."
In Wales, mountain rescue teams dealt with 414 incidents between in 2010. The figure includes 117 "non-mountain incidents", for instance when teams are called to assist people in exceptionally bad weather.
There were 26 fatalities in all.
Mr Alexander said the extra cash recognised the "fantastic work" done by rescuers.
He said rescue teams were "keeping people safe, saving lives, across the UK, but particularly in the Welsh mountains.
"I know from my Liberal Democrat parliamentary colleagues in Wales the vital work that these teams do.
"We are providing a grant to the Mountain Rescue Council for England and Wales which will help to meet some of the equipment costs that mountain rescue teams face.
"This money will be dispensed by the council, it will be available this year and in all subsequent years and I hope will make a contribution to enabling those teams to carry on doing their very good work indeed."
A spokesman for the Mountain Rescue Council for England and Wales said: "Any acknowledgement by government for the work we do is always good, but in terms of this announcement, it hasn't really been explained how it will be allocated, or what conditions come with it."