Swansea City fan paints Llandeilo house in team colours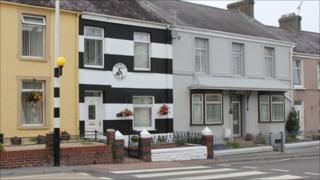 A Swansea City fan has lived up to his pledge to paint his house in the team's colours if they played their way in to the Premier League.
Michael Rees, 69, has even put the Swans logo on the terraced property in Llandeilo, Carmarthenshire.
The Swans became the first Welsh club to reach the Premier League after winning May's Championship play-off.
Mr Rees said: "Every colour I've ever painted my house none of the neighbours like it, but they love this."
It took him two days to paint the black and white stripes in a charity event raising cash for Wales' air ambulance and the forces' charity, Help The Heroes.
Mr Rees went to Swansea's last game in the Championship last season with three friends who formed their own fundraising team 10 years ago.
Their previous fundraising have raised £5,000 for the cancer charity Tenovus and £10,000 for the Noah's Ark Appeal, fundraising the Children's Hospital for Wales.
He said: "I told the boys, if we win and reach the premiership I'll paint my house black and white and put the logo on.
"They dared me and I said 'Don't dare me because I will'"
But the black-and-white building, which is directly opposite a zebra crossing, has a dual purpose. For lifelong Swansea City fan Mr Rees also supports Newcastle United, which shares the same team colours.
He said: "The colours match both clubs, just that the stripes go the wrong way.
"I'll leave it like this for as long as possible."