Inquest opened over fisherman Alan Patterson's death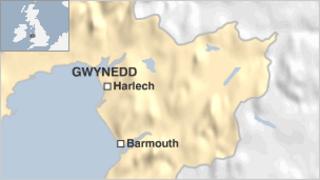 An inquest has been opened and adjourned into the death of a fisherman who is believed to have fallen from his boat anchored off the Gwynedd coast.
The body of Alan Dawson Patterson, 63, from Stoke-on-Trent, Staffordshire, was spotted off Barmouth, on Tuesday night.
Coastguards carried out a search after Mr Patterson was reported missing from his boat called "Keep Smiling".
His body was discovered on Bennar beach, near Shell Island, between Harlech and Barmouth.
The Stoke Sentinel newspaper reports Mr Patterson as a popular family man who ran a motor business.
The paper said he was on a holiday at Dyffryn Ardudwy, where he was also well known as a fisherman.
His boat was towed into harbour in Barmouth by a lifeboat crew.
Mid Wales deputy coroner Nicola Jones adjourned an inquest on Wednesday.
A post mortem has been held but no cause of death has been given.
North Wales Police said the incident is not being treated as suspicious.