Welsh Music Prize launched by DJ Huw Stephens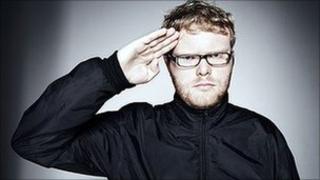 A Welsh Music Prize is being launched to celebrate the best new albums by bands and artists in Wales.
Radio 1 DJ Huw Stephens and promoter John Rostron say it will be judged by leading music critics and figures.
The shortlist will be announced in two weeks with the winner named during the Swn (Sound) Festival in October.
Stephens said: "The Welsh Music Prize is a chance to highlight incredible albums made by Welsh musicians, and bring their music to wider attention."
A shortlist of 12 albums released between 1 August 2010 and 31 July 2011 and the competition judges will be announced this month.
Critics' choice
"By inviting a panel who love, make or work with music to judge this award, it will be a chance to celebrate the wealth of recording talent that exists in Wales, and shine a light on some exciting, diverse and excellent albums," said Stephens.
The prize is being launched to tie in with the Swn Festival in Cardiff, founded by Stephens and Rostron in 2007 as a showcase for new music along the lines of the SXSW festival in Texas.
Rostron, who will chair the judging panel, said it would be a critically-based award open to all genres of music.
"We've long thought Wales should have a critically-judged music prize which celebrates the great diversity in genre and language which comes from this country," he said.
"I've watched developments such as the Nordic Music Prize and the Polaris Music Prize in Canada and how they've been great platforms to discover new bands from those countries.
"We hope the Welsh Music Prize does the same for bands in Wales."
The winner of the award will be announced during the annual Swn Festival of music in Cardiff which takes place from 20 to 23 October.
Stephens has also been named as one of the hosts of a new award for independent music makers across the UK to be announced in November.
In July, Bangor-born jazz pianist Gwilym Simcock was nominated for the annual Mercury Prize for his album Good Days at Schloss Elmau.