Bangor, Cardiff and Swansea among local TV locations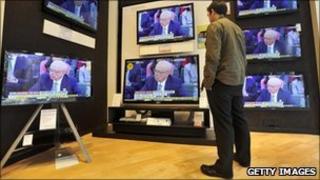 More than 800,000 homes across 11 communities in Wales could get new local TV services, say UK ministers.
Those able to bid for licences include Cardiff, with coverage to include Bridgend and Newport; Mold, which includes Denbigh and Ruthin, and Swansea with Llanelli.
Bangor, Carmarthen and Haverfordwest can also bid.
Wales Office Minister David Jones MP said it had "huge potential" for how Welsh towns would access news.
Mr Jones said it was a "very exciting time for broadcasting in Wales" and would strengthen the ability of communities to hold their representatives to account.
"I encourage local communities in Bangor, Cardiff, Carmarthen, Haverfordwest, Mold and Swansea to make the case for local TV in their area," he said.
Six Welsh areas - covering 11 towns and cities - are on a longlist of 65 locations across the UK in the running to pioneer the UK's first local TV services.
The Cardiff coverage would include Newport and Bridgend; the Swansea coverage would include Llanelli, while Mold's coverage is expected to include Denbigh and Ruthin.
'Huge appetite'
Culture Secretary Jeremy Hunt is keen to mirror the concept of US-style local television in the UK.
In the US many cities, rather than wider regions, have their own news and entertainment coverage, a model Mr Hunt wishes to embody here.
Mr Hunt said: "These new, local TV services will be a fundamental change in how people get information about their own communities, and how they hold their representatives to account.
"There's a huge appetite for local news and information in communities the length and breadth of the country.
"I want people to be able to watch television that's truly relevant to them, about what's happening where they live and featuring the people they know."
The first licences will be open to bidders in a few months' time and will be awarded after the Department of Culture, Media and Sport (DCMS) has judged the level of interest from potential broadcasters and audiences.
The views of companies who are interested in bidding for the single multiplex licence will also be sought.
Around £40m of licence fee money has been earmarked for start-up costs but projects will need to be self-sustaining.
Over the next few weeks a series of events will be held in different areas aimed at encouraging local communities to bid for the licences, which will be awarded next year.
The Welsh TV Summit with Mr Hunt will be held in Cardiff on 26 August.
David Elstein, former chief executive of Channel 5, told BBC Radio Wales the latest version of the plans was a "bottom up, top down" approach, for anyone with a viable business plan.
He said: "My personal view is that this will only work when we have fully rolled-out broadband and the internet delivers our content.
"Then you won't need a local TV station but what you will click onto is highly-localised content, be it news or entertainment, delivered at the lowest possible cost and without all the trappings of a traditional broadcast system."
But Alun Ffred Jones, Plaid Assembly Member for Arfon and Wales' former culture minister, questioned why there was a need for a local television "masterplan".
He said: "It's fine in theory but is it practical?
"If it does happen it will need to happen in a different manner and at a different economic time."