Business growth in Cardiff, Newport and Swansea 'slows'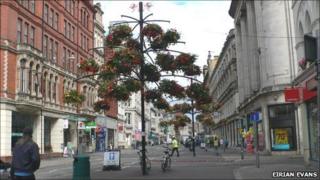 Business growth in south Wales slowed during the second quarter of the year, partly because of the extended Easter break and royal wedding, it is claimed.
South Wales Chamber of Commerce surveyed 2,800 small and medium-sized companies such as hoteliers, shop owners and construction firms.
In Swansea, Newport and Cardiff more businesses reported a drop in sales than the first quarter.
But one Swansea business adviser said he found "cautious optimism".
In Swansea, over a third (34%) of companies said sales had fallen, up from 28% in the first quarter.
In Newport 28% of firms said sales had dropped, up from 25%, and in Cardiff 21% of companies agreed, up from 6% in the first quarter.
Growth figures in the first quarter of the year had been positive, the chamber of commerce said.
Inflation was the biggest worry, followed by competition, but the chamber said the second quarter slump could partly be blamed on the extended Easter break and royal wedding.
It said people had extended their holidays to include the days after the celebration at the end of April.
The chamber also claimed that many member businesses relied on contracts from the public sector, and they were feeling the pinch as this work started to dry up.
Director Graham Morgan said: "Overall, this quarter has seen a disappointing slowdown in the sales growth that we had been seeing in previous quarters.
He said the extended Easter break and disruption surrounding the royal wedding, had a detrimental effect on productivity.
"However, UK orders across all areas stayed fairly consistent with the previous quarter, which should allow order books to compensate somewhat for sales deficiencies," Mr Morgan added.
Among the firms surveyed were hauliers, hoteliers, shop owners, solicitors and manufacturers, including two firms manufacturing car and train parts.
"On the back of the sluggish results, optimism has stalled somewhat, although businesses in south east Wales remain more bullish about their prospects in the next quarter," Mr Morgan added.
Cardiff and Newport remained the most optimistic areas, while Swansea businesses were a little more cautious about their prospects for the next quarter.
He added that it was disappointing more than three-quarters of businesses reported no export activity.
But Mr Morgan said the knock-on effect of Swansea's promotion to the Premier League might translate into improved trading in the coming months.
Jon Hughes of Centre for Business, which advises small and medium-sized businesses in Swansea, Cardiff and Newport, said there was a "certain amount of truth" in what the chamber of commerce was saying about the Easter break and royal wedding.
"The extended bank holiday saw people bolting on holidays to the end of it, and this would have had an impact on productivity, although hotels and catering companies would have done well out of it," he said.
"But it's dangerous to read too much into figures from one quarter.
"The businesses I speak to have cautious optimism. They are asking if there's going to be a double dip recession, if there's a slight trend upwards in the economy, do they they invest now or later?
"This is reflecting people's shopping habits."