Cardiff mayor confident rioting will not hit Wales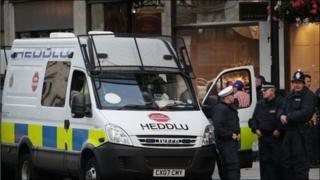 Cardiff's Lord Mayor has voiced his confidence that rioting in England will not cross the border into Wales.
Although there were four "isolated" incidents in the capital on Tuesday, councillor Delme Bowen said the attacks were "nowhere near the scale" of the troubles in London or Birmingham.
He said he was sure people in Wales would "respect their communities".
South Wales Police is investigating the incidents, which saw two shops attacked and two small fires started.
In Cardiff Bay, there were reports of an attempted burglary at a sports shop, and in Cowbridge Road West, criminal damage was caused to a takeaway.
Small fires were also tackled at two disused buildings in the Butetown and Canton areas, which were put out by firefighters.
Mr Bowen, said: "I can understand people may be concerned after hearing reports of what happened in Cardiff, given the context of problems in England.
"But there has been no organised unrest in Cardiff or anywhere else in Wales for that matter.
"I am sure that people in Wales will continue to respect their communities.
"Obviously the authorities will keep monitoring the situation should any incidents occur and they will be dealt with accordingly."
'Relatively minor'
Referring to the Cardiff incidents, Chief Superintendent Josh Jones, said: "These incidents are being treated as isolated which have caused relatively minor damage to property."
Three Welsh police forces have sent officers to London and elsewhere to help tackle violence.
Dyfed Powys Police confirmed some of its officers had been sent to other parts of the UK, but Assistant Chief Constable Nick Ingram said: "We have the resilience to maintain front line policing in Dyfed Powys".
North Wales Police would not give numbers on how many riot-trained officers had been deployed elsewhere but deputy chief constable Ian Shannon said some were in London and Manchester.
Gwent Police have indicated they are in a position to send officers if needed.
The force also warned people to use social networking sites responsibly after a 27-year-old man from Ebbw Vale had been arrested and cautioned for sending a malicious communication by public communication network.
Deputy Chief Constable, Jeff Farrar, said: "I have no doubt that many of the pictures and reports from across the UK within the media will provoke concern among our communities.
"I want to reassure them that, in the Gwent force area, we have not experienced major unrest as seen elsewhere but what we have had is irresponsible use of social media which has caused unnecessary fear and anxiety in the community."
First Minister Carwyn Jones said the Welsh Government would monitor the situation in England, but he hoped people in Wales would have "more respect for each other".