England riots: Welsh MPs at emergency debate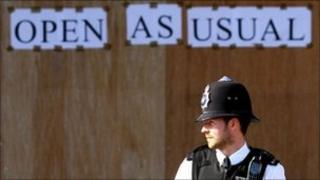 A south Wales MP has urged David Cameron to let the police use more physical force to tackle rioters.
David Davies, Conservative MP for Monmouth, said frontline officers were afraid to use physical force because of criticisms from MPs.
Mr Davies, who is also a volunteer special constable, spoke at a recalled Parliament to debate the riots in a number of cities in England.
Mr Cameron told MPs people wanted a "very robust response" from the police.
The prime minister also paid tribute to Welsh police forces who have provided support for officers in England.
A large police presence and heavy rain prevented a fifth night of rioting on Wednesday.
Earlier this week, violence and looting in London spread to cities including Manchester, Salford, Liverpool, Nottingham and Birmingham.
There were fears of unrest in Wales but there were no outbreaks of serious disorder.
Mr Cameron admitted the police were slow to react to the riots and wrong to treat it as a public order issue rather than one of criminality.
But he added that police had the legal backing to use any tactics necessary to bring the situation under control, including using baton rounds.
Mr Davies, who was on the streets of London on Wednesday night in his volunteer special constable role, said frontline officers were afraid to use physical force because of criticisms from MPs.
"So when the prime minister - I welcome this - says 'we will be robust and do whatever it takes' can he assure us that members of this House will support the police if they have to strike people with batons or kettle them in because force has to be met with greater force?" he said.
The prime minister told him people wanted a "very robust response" from the police to violent criminal behaviour.
Mr Cameron told MPs the UK government would not allow a "culture of fear" to take over the streets and the fight back had "well and truly begun".
"This is a time for our country to pull together," he said. "We will protect you."
His message to rioters was: "We will track you down, we will find you, we will charge you, we will punish you. You will pay."
Nearly three-quarters of Wales' 40 MPs are at Westminster to discuss the riots.
Plaid Cymru's parliamentary leader Elfyn Llwyd Llwyd asked the prime minister to reconsider cuts to police budgets in light of acquisitive crime increasing in economic downturns.
But rejecting the suggestion, Mr Cameron said: "The figures from the last recession disprove that.
"We should be clear in this House it is criminals who are responsible for crime. It is an individual act and we should hold people responsible for those acts.
"Let me take this opportunity to pay tribute to Welsh police forces that gave great support to police forces across England."
But Rhondda MP Chris Bryant said police cuts mean it will be harder in future for Wales to "help out" if there is social unrest in England.
He said: "He (Mr Cameron) commends Welsh police forces for sending people down from Wales but in the next four years we're going to have 1,200 fewer officers in Wales, and it's going to be more difficult for us to help you out."
Mr Cameron told him: "In Wales as in England there are opportunities to get officers out from desk jobs, and HR jobs, and IT jobs."
Mr Cameron went on to agree with Cardiff Central Liberal Democrat MP Jenny Willot who wanted any inquiry to learn from areas where no trouble occurred as well as the troublespots.
But he said the point had not yet been reached for an in-depth report as suggested by Cardiff South and Penarth MP Alun Michael.