England riots: 'Savage' police cuts warning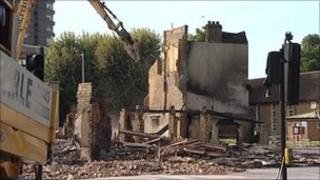 The chair of South Wales Police Federation has warned if "savage" cuts go ahead police will not be able to respond effectively to future riots.
Gary Bohun called for a rethink on the cuts following violence and looting in London, Manchester, Salford, Liverpool, Nottingham and Birmingham.
Police forces from Wales sent officers to England to help regain order.
The Archbishop of Wales has called for a better understanding of what caused the riots.
Parliament was recalled on Thursday to debate the riots.
A murder inquiry has begun after a 68-year-old man was attacked as he tried to stamp out a fire in west London died in hospital.
Law-abiding majority
More than 1,500 arrests have been made across England since the unrest began last Saturday.
Mr Bohun said the "law-abiding majority of people" had been "appalled" at the broadcast images of the unrest.
They had created an "inaccurate but understandable fear of societal breakdown", he added.
Mr Bohun said the police was the most flexible of any workforce in Britain and questioned whether any changes to the way it is run would improve it.
He said that 16,000 officers are now patrolling the streets of London.
Anorexic
"The Government is planning to cut police officer numbers by 16,000 officers in the next four years.
"The thin blue line is not only thin but anorexic and, in places, entirely opaque," he added.
Mr Bohun said Paul McKeever, the National Chairman of the Police Federation, had warned of "civil unrest" if police cuts went ahead.
"The Government must listen to the service providers, those actually doing the job," he said.
"If these savage cuts go ahead, public safety will be compromised and the British police service will not be able to respond effectively to future mass demonstrations or widespread criminality as being currently experienced."
Desperate way
Meanwhile, the Archbishop of Wales Dr Barry Morgan has spoken of the pockets of deprivation in "our cities".
The church leader said: "I don't want to condone those who have destroyed property and who've killed people.
"On the other hand, I think we have to ask deeper questions: What causes young people, and really young people, to behave in such a desperate way? To behave in a way that they think is acceptable?
"There are pockets of our cities that are totally deprived, that are poor, that they've got nothing to lose.
"I think, therefore, we have got to look at that deeper question about what causes people to feel so desperate that they can go out and they don't care about the consequences," he added.