England riots: First minister praises peace keepers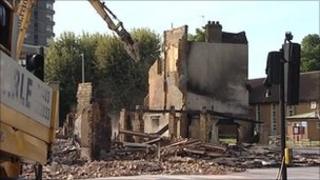 First Minister Carwyn Jones has thanked those who he said kept Wales safe while riots raged across England.
He paid tribute to police, youth workers and council staff, who have "worked tirelessly... to keep our streets peaceful and our people safe".
Wales did not experience the violence seen in London and other English cities.
Meanwhile, South Wales Police Federation said deep cuts could hamper the response to any future riots.
The first minister said he had seen the riots unfold with "extreme concern".
"We have seen people's homes and lives wrecked by some individuals who clearly have very little respect for their neighbours," said Mr Jones.
He also thanked Welsh police officers who had been sent to London and other areas of England to assist their colleagues in restoring public order.
He added: "In Wales, the Welsh Government works very closely with the emergency services and different communities and I believe that this has stood us in good stead this week."
South Wales Police Federation chair Gary Bohun called for a rethink on planned police cuts following violence and looting in London, Manchester, Salford, Liverpool, Nottingham and Birmingham.
"The government is planning to cut police officer numbers by 16,000 officers in the next four years," he said.
"The thin blue line is not only thin but anorexic and, in places, entirely opaque."
More than 1,500 arrests have been made across England since the unrest began last Saturday.
Parliament was recalled on Thursday to debate the riots.
A murder inquiry has begun after a 68-year-old man who was attacked as he tried to stamp out a fire in west London died in hospital.
Law-abiding majority
Mr Bohun said the "law-abiding majority of people" had been "appalled" at the images of the unrest.
They had created an "inaccurate but understandable fear of societal breakdown", he added.
He added the police was the most flexible of any workforce in Britain and questioned whether any changes to the way it is run would improve it.
He said that 16,000 officers were now patrolling the streets of London.
Mr Bohun said Paul McKeever, the National Chairman of the Police Federation, had warned of "civil unrest" if police cuts went ahead.
Destroyed property
The Archbishop of Wales Dr Barry Morgan spoke of pockets of deprivation in cities, leaving people with nothing to lose.
The church leader said: "I don't want to condone those who have destroyed property and who've killed people.
"On the other hand, I think we have to ask deeper questions: What causes young people, and really young people, to behave in such a desperate way? To behave in a way that they think is acceptable?
"There are pockets of our cities that are totally deprived, that are poor, that they've got nothing to lose.
"I think, therefore, we have got to look at that deeper question about what causes people to feel so desperate that they can go out and they don't care about the consequences," he added.