Welsh aid worker in call for Somalia drought funds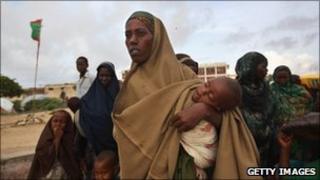 A Welsh aid worker is rallying support for drought-stricken Somalia.
Salaheddin Aboulgasem, who works for Islamic Relief, hopes to raise funds for life-saving food, water and medical aid.
He has just come back from a trip to east Africa where the drought is affecting 12m people from across Somalia, Kenya, Ethiopia and Djibouti.
Mr Aboulgasen spoke at a fundraising dinner in Swansea on Saturday and will do so again in Cardiff on Sunday.
"We are in a race against time because this drought has already claimed tens of thousands of lives," he said.
"With more funds we can distribute food to more people, reach a wider area of Somalia and prevent what is already a heart-breaking situation from deteriorating into a humanitarian catastrophe."