Police cuts 'to axe 16,000 posts' - Cardiff Uni report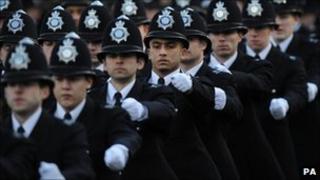 Cuts in police budgets will see a loss of 16,000 frontline posts - the same number needed to quell London's riots, a Cardiff University report claims.
Report author Dr Timothy Brain, a former chief constable, said a £1.36bn or 14% cut over four years will hit the most efficient police forces hardest.
First Minister Carywn Jones has urged a re-think on the cuts saying they will will "hurt" Welsh communities.
The Home Office said the changes imposed will be "manageable".
Dr Brain, an honorary research fellow at the university's Police Science Institute, is the former chief constable of Gloucestershire.
The institute is based on a partnership between Cardiff University, South Wales Police and the University of Glamorgan.
Dr Brain's study analysed the combined effect of last year's Spending Review, the police settlement grant and spending announcements by all 43 local police authorities.
He challenged claims by ministers that the cuts can be largely absorbed by "back office" efficiency savings with little impact on front line services.
He said: "The [UK] government has chosen to ignore the riots as a warning that they need to pause and think again on funding cuts.
"Ministers argue the police will be able to cope by concentrating resources - but you can only concentrate resources in one area by taking them from somewhere else.
"Ironically, the most efficient forces will be hardest hit, as they have least room to make further efficiencies."
Mr Jones said the Welsh Government was committed to introducing 500 additional police community support officers over the next five years.
He said: "But they will not be there to replace frontline police officers - they'll be there to support them.
"What the people of Wales want to see is more, not fewer police out on the street keeping our communities safe."
"The UK government needs to be bold, and accept that they now need to re-think their decision to cut the policing budget."
The Home Office has said it was sticking by its decision to reduce police spending in order to reduce the UK's budget deficit.
A spokeswoman said the "urgent need" to take action to address the budget deficit was "clear from events across the world right now".
She said: "The reductions in the police budget for the spending review period are manageable.
"There is no question the police will still have the resources to do their important work."