Elderly 'cut back on essentials'', says Wales watchdog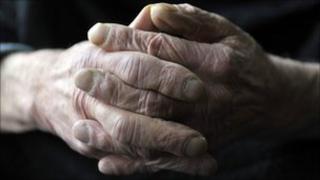 The Older People's Commissioner for Wales has warned many elderly people are cutting back on essentials to survive.
In its latest quarterly report, Saga says soaring prices continue to erode living standards.
Ruth Marks welcomed the report, which showed "robust evidence" of a link between money and elderly people's happiness.
She said the impact of inflation was a concern raised with her.
Saga reported that its quality of life index for older people in the UK had fallen for the third quarter in a row, and that inflation was hitting the over 50s harder than other age groups because of their spending patterns.
A total of 41% of those questioned expected their prospects to worsen in the next year and inflation to stay high.
Reacting to the report, Ms Marks told BBC Wales she welcomed evidence that financial well-being affected people's happiness.
'Isolated and lonely'
"I think the evidence is vital to take on board when people are making decisions that impact on the lives of older people," she said.
"Talking about money and well-being is not always an obvious connection but I think it is important," she said.
In her annual report, the commissioner said the main issues brought to her attention in Wales were health, social care, money, transport and housing.
She said many some people were unable to express their concerns due to their circumstances.
"Many older people are actively involved in ensuring that their voices are heard by people who make decisions but others are isolated and lonely," she said.
'Longevity'
"I think this connection between money and well being is particularly important in relation to people who are isolated or vulnerable in our communities around Wales."
Ms Marks commented on a recent event attended by 100 people in Rhyl where they were clear about the impact of inflation.
"They had this phrase ... prices are going up in pounds and pensions are going up in pence."
"It's a fixed situation - many older people don't have anything else they can do other than cut back, not just on luxuries but also on essentials and that's really concerning as we approach the autumn and winter months."
The commissioner warned that the prospect of poverty in old age was something younger people had to address now.
"It's not about pitching generations against each other … this is about everybody realising that it's fantastic news that we're living longer and healthier lives but that also with that longevity comes the opportunity to plan differently for the way that we live and operate altogether."