Universities offer clearing hope for students in Wales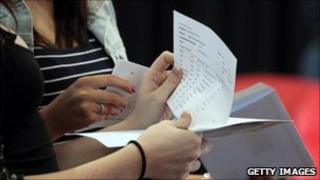 Universities in Wales expect to have several hundred places available for students who fail to get the grades needed for their preferred course.
The clearing system will seek to fill courses with youngsters whose A-levels fell short of their original offer.
Cardiff University expects to have around 300 places available, while Glamorgan says there is a "reasonable chance" of students finding a course.
Aberystwyth is the only Welsh university not taking part in clearing.
"We have received a 35% increase in applications since 2009 and more and more of our applicants are holding Aberystwyth as their first choice," said the university.
While admissions officers are unable to confirm numbers at this point, BBC Wales understands several hundred places are likely to be available at universities across Wales when pupils receive their A-level results on Thursday.
Colleges are running helplines from early morning, with information on vacancies also available online.
Prospective students also have the opportunity of switching to another course or university, particularly if their results are better than expected.
The University of Wales, Newport, expects to have around 160 places available, along with foundation degree courses available to applicants from the Heads of the Valleys.
Carys Roberts, head of student recruitment at Bangor University, says a "limited" number of places will be available on certain courses.
"We will have places available to study law, which is quite unusual, in a department which is growing," she said.
"Engineering and computer science are also possibilities.
"We expect to be very busy with inquiries from students who have failed to make the grades at their first choice universities," she added.
"For those who've failed to achieve their grades for Bangor we will have a reserve list."
Glyndwr University said it would also have a limited number of places across a range of courses, with a high demand expected when clearing begins.
Pro vice-chancellor Dr Helen James said: "Interest in studying at university remains stronger than ever, despite the rising cost.
"Nursing and social work are both fully subscribed for September but we have a limited number of places available in most other subject areas, including art and design, creative media, business and engineering."
Both Cardiff and Glamorgan referred to a late increase in funded places by the Higher Education Funding Council for Wales (HEFCW) for the availability of some courses through clearing, though other universities said it was not a factor.
A spokesman for the University of Glamorgan said: "We have some extra places available for aerospace engineering students as well as other places on a range of subjects.
"The best advice for students is to take the headlines with a pinch of salt. Get on the phone and talk to the universities, because you may well be successful in getting a place."
Information about course vacancies through clearing across the UK can also be found from UCAS via their website or helpline number 0871 468 0468.