Agriculture professor Gareth Edwards-Jones dies at 48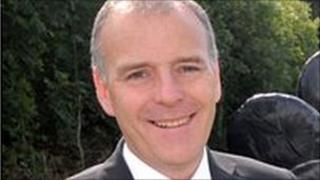 A professor working at Bangor and Aberystwyth universities has died aged 48 following an illness.
Gareth Edwards-Jones was the professor of agriculture at Bangor University and Waitrose professor of sustainable agriculture at Aberystwyth University.
A farmer's son from Denbighshire, he had research interests spanning a range of issues concerned with food production and use of the environment.
Prof Edwards-Jones is survived by his wife, Emma, and two children.
A Bangor spokesperson said the university was extremely saddened by his death, adding: "He was a highly respected academic who had published widely in relation to his specialised field of agriculture and land use.
"He also made a significant contribution to Welsh agriculture and the study of environmental science."
The spokesman said Prof Edwards-Jones played a role "more generally" within the university, "presenting, over the years, a number of prominent individuals for honorary fellowships and degrees".
"He was a well-liked colleague and lecturer and will be sadly missed by all at the university," the statement added.