Daily Mail's Welsh 'monkey language' book review anger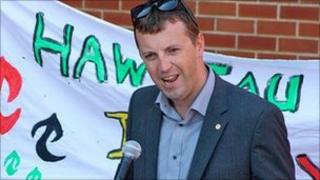 An MP has complained about a book review which describes Welsh as a "moribund monkey language".
Plaid Cymru's Jonathan Edwards has also asked Home Secretary Teresa May whether the Daily Mail article contravenes race hate laws.
Roger Lewis used the term when reviewing Jasper Rees's book Bred of Heaven for the newspaper, which has been asked by BBC Wales to comment.
Author Mr Rees said the term was an "extraordinarily ignorant insult."
In his book Bred of Heaven, English-born Mr Rees sets out to rediscover his Welsh roots during a year in Wales in which he tries to learn the Welsh language.
But reviewing the book in Friday's Daily Mail Caerphilly-born Mr Lewis described Welsh as an "appalling and moribund monkey language."
He wrote: "The trouble with the Welsh language is that it isn't a quaint custom revived or the relic of cultural niceties — it is foisted on people for political reasons.
"I detest the way Wales has been turned into a foreign country, with a Welsh language radio station, television channel, and dual-language road signs."
Carmarthen East and Dinefwr MP Mr Edwards said he was referring the article to the Press Complaints Commission and to the police.
He has also written to the Home Secretary seeking guidance on whether the article breached laws designed to prevent incitement to racial hatred.
"The article is a disgraceful slur on the people of Wales," he said.
"The article equates Welsh nationality with mental illness.
"It is often said that hatred of the Welsh is the only remaining form of acceptable racism. Articles like this further that perception."
The book's author Mr Rees has also hit out at the review on his Facebook page.
He said: "This is an extraordinarily ignorant insult to those whose first language is Welsh.
"I always worry that it's a boring old cliché to say yet again that anti-Welsh sentiment is the last tolerated form of racism. And then an article such as this is published in a London newspaper."
The Daily Mail has been asked to comment.