Jobs worry as Bank of America plans Chester 'exit'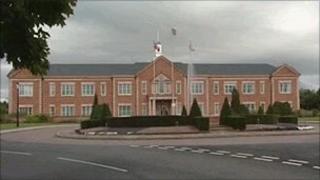 An MP says he is concerned about the future of thousands of jobs after Bank of America decided to withdraw from the UK credit card market.
The company said it was "seeking to bring certainty" for the 3,500 staff at its European credit card HQ in Chester.
Alyn and Deeside MP Mark Tami said the news came "out of the blue" and there was no buyer at the moment.
Cheshire West and Chester Council leaders said they would do all they could to maintain current job levels.
Mr Tami said he believed up to half the workforce lived in north Wales, over the border.
Neighbouring Welsh councils are also worried about potential job losses and say they will work to help employees.
The move is part of a broader shift by Bank of America out of its international credit card businesses.
Earlier, Bank of America said it plans to sell its $8.6bon credit card business in Canada to TD Bank Group and would also "exit" its credit card businesses in the UK and Ireland.
As well as Chester, the company, which bought the operation from MBNA in 2006, also has offices in Carrick-on-Shannon.
Mr Tami said: "It has come out of the blue. I've just spoken to the company today and they say there isn't any buyer there at the moment.
"It's a profitable business, it's very successful, but the company claim it doesn't really fit into their core strategy for the rest of the company.
"It clearly leaves a lot of uncertainty there for the employees."
Mr Tami said he feared there could be job losses even if the business was sold.
"The concern that is clearly there is that if it's perhaps another credit card company [that buys it] then they would look to take on the book but perhaps not all the workforce," he said.
Major employer
He added the company had given no hint of the time scale for pulling out of Chester.
Chester MP Stephen Mosley said: "Whilst the announcement will undoubtedly cause concern for many employees on the business park, I'm sure that whoever buys the UK and European credit card businesses will find Chester an excellent place to do business."
Cheshire West and Chester Council chief executive Steve Robinson said they would be extremely sad to lose the company, which has become a "real part of Chester" since it arrived 18 years ago.
"We are, of course, are prepared to do everything possible to welcome the new owners and support them to maintain current levels of employment," he said.
Council leader Mike Jones added: "It is a profitable business operating out of high-quality accommodation with cutting edge technology - an attractive proposition for investment."
Flintshire council raised concerns and said it would contact the Welsh Government to ask for help for anyone facing possible redundancy.
Matt Wright, executive member for regeneration at the council, said he had been discussions with Chester West and Chester Council, as well as the Welsh Government, and they understood the operation was profitable.
"The company employs 4,000 people and we know that many live in Flintshire.
"We will be approaching the company with our partners in England to gather more information about this very serious situation."
Wrexham councillor Rodney Skelland, lead member for regeneration and corporate governance, said: "We fully recognise the significance of this major employer and will be working with our partners, including the local authority in Chester, to do all that we can to ensure the successful outcome and that people's livelihoods are not affected.
"Wrexham council is concerned at the news that the Bank of America plans to sell off its UK business.
"Even though the business is based in Chester, the company does employ a lot of people from Wrexham and this is another example of the continued effect of the tough global economic climate on people's lives and livelihoods."
A spokesman for Bank of America said: "Our European consumer credit card business is a successful and profitable operation with a highly skilled workforce in Chester and Carrick on Shannon, and we will be seeking to bring certainty for our employees by identifying an appropriate solution as quickly as possible.
"We are in the early stages of the process and our ultimate decision will be based on what is in the best interest of our shareholders, employees, customers, and partners. In the meantime, it is business as usual."