Tregaron and Lampeter 'among worst for broadband speed'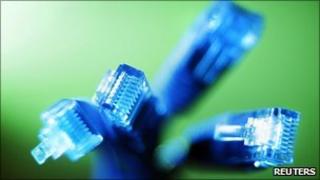 Two towns in mid Wales have been named among the 20 worst locations for broadband speeds in the UK.
Tregaron and Lampeter both appear in the list produced by uSwitch.com.
People in both towns say poor connection speed hampers business and residents cannot use some internet services others take for granted.
Comparison website uSwitch.com said its survey was based on 400,000 speed tests conducted through its website between May and July this year.
Tregaron in Ceredigion was named the second worst "notspot" in the UK behind Cranbrook in Kent.
Duncan Taylor, who has been leading a campaign to get the town better connected, said he was not surprised by the findings.
He told BBC Radio Wales: "The problem is that it holds back businesses in the area. It's very damaging to business."
He also said people were missing out on services others took for granted.
"If I want to watch a programme on BBC iPlayer I have to set it to download overnight and hope that it doesn't drop out.
"It takes too long to sit and watch the little round circle constantly coming on while you try to watch a programme."
Rob Philips, a town councillor in Lampeter, said the results backed up the experience of residents in the town.
"It has a knock-on effect for businesses and individuals which really should not be happening in this day and age," he added.
'Playing catch-up'
"We do now have broadband. I remember the time we were campaigning for broadband and were told we were way down the list.
"But obviously we are always playing catch-up with the technology because by the time we get it other places are on faster broadband."
Mr Taylor said in one area the community was planning to put up its own mast to improve coverage.
"We have the major part of the funding in place and have planning permission for the mast. It will probably be up and running I think towards the end of next year.
"The commercial companies say it is not viable for them to do it."