Tory AM Byron Davies calls for all-Wales police force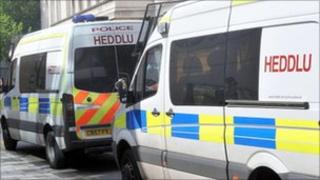 A former Metropolitan Police officer who is now a Conservative politician has revived calls for an all-Wales police force.
Conservative AM Byron Davies says four forces for Wales is not sustainable.
He said one force serving the nation was a realistic option in the economic climate and amid public service cuts.
The idea was put forward by the then Labour UK government in 2006, but dropped, and Wrexham Labour MP Ian Lucas has voiced his opposition.
Mr Davies, an Assembly Member for South Wales West and his party's transport spokesman, worked for the UK National Crime Squad during his career with the Met.
He was also seconded to the European Union to advise on combating organised crime.
His support for one force in place of the existing force drew criticism on Twitter from Mr Lucas, who wrote: "Absolutely not.
"Wrexham policed from Cardiff? Why?" Mr Lucas added.
But Mr Davies argued that that would not be the situation if the South Wales, Dyfed-Powys, North Wales and Gwent forces were merged into one.
"You are still going to have your local coppers in place and bobbies on the beat," he said.
"All I'm asking is do we need four forces? I'm not saying for one minute that police should be devolved.
"I think we are quite lucky for 3m people to have four police forces, but you've got to ask yourself if we can really afford it in the current climate?
'Realistic option'
"Can we afford four chief constables and assistants?
"I think in the current climate, things have to change drastically. This is a realistic option."
In February 2006, the then Labour Home Secretary Charles Clarke announced plans for a merger. It was backed by Welsh Secretary Peter Hain, but scrapped five months later.
Rhondda MP Chris Bryant has claimed that under the current Conservative-Liberal Democrat coalition, the four forces face cutting up to 1,600 staff over the next four years as part of 20% cuts.
But Mr Davies, said he had discussed the cuts with Chief Supt Mark Mathias, in charge of the South Wales Police western division.
"I'm very happy there are no cuts to frontline policing," he said.
There have been calls by a number of MPs to stop the planned cuts following the riots that hit parts of England last week.