Wales farmland prices among UK highest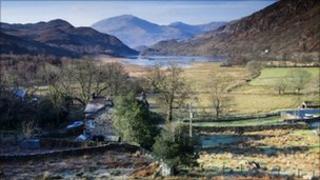 Welsh farmland is among the most expensive in the UK, according to a survey.
The Royal Institution of Chartered Surveyors (RICS) found demand for land rose as larger farms looked to expand on the back of higher livestock prices.
Prices reached an average £6,500 an acre, second only to north west England.
Unions said the price rise was due to the sale of smaller areas of land which are more expensive than larger ones.
But one union warned it masked a trend of big farms expanding, forcing some families out.
The RICS Rural Land Market Survey for the first half of this year found that prices were also higher than the national average in the West Midlands.
Scotland and the north east of England saw the lowest prices.
In Wales, interest from potential buyers of commercial farmland continued to surge ahead, with 55% more respondents reporting increases, rather than decreases, in demand.
Surveyors reported commercial farmers looking to expand production on the back of higher prices for livestock, such as sheep and cattle, were driving the price increases.
In Wales, 73% of buyers were commercial farmers.
RICS spokesperson Sue Steer said: "The first six months of 2011 saw farmland prices in Wales increase to amongst the highest levels in the UK.
"With commodity prices still very high, many commercial farmers appear keener to expand their businesses rather than sell their land.
"This can only lead to even higher prices over the next 12 months."
In contrast, the residential farmland market was relatively subdued, she added, reflecting the broader national housing picture.
'Confidence'
Ed Bailey, president of National Farmers Union Cymru, said he was pleased but surprised that Welsh farmland was fetching higher prices.
"To a certain extent it's a good news story which shows that farming in Wales is buoyant, and that banks have sufficient confidence in farmers to lend them money," he said.
He added he was surprised because around 80% of land in Wales is deemed 'less favoured area' - land, often steep, with thin soil and heavy rainfall.
Emyr Jones, president of the Farmer's Union of Wales (FUW), said: "Wales is a tremendous country for producing healthy stock as our customers have realised by now."
But he warned that the higher land prices hid a more worrying trend in the Welsh agricultural community.
Mr Jones explained that the price of land was high because farmers want to buy neighbouring land - small parcels of land under 20 acres (8 hectares) which are often adjacent to other farms.
"That sort of land is usually higher priced," he said. "Farms are split up. The house and buildings are sold as one lot with maybe a 10-acre (4 hectare) field. The rest is sold in four or five parcels and that tends to lift the price.
'Worrying picture'
"The farm would never make the same price if sold as one unit."
He said it was a worrying picture.
"Farms are getting bigger and farming families are being lost to the countryside community," said Mr Jones. "The high prices also mean that it's very difficult for a young farmer to start out.
"It's still not easy to make a living out of farming. Stock prices have risen. We are getting better prices for lambs, sheep and cattle but fuel, feed and fertiliser prices are rising tremendously."
Nigel Jones of John Francis estate agents, which sells farmland in south west Wales, also confirmed: "The big are getting bigger."
"There isn't a lot of land coming onto the market and it's mainly commercial buyers who are purchasing," he said.
He said that the larger the block of land being offered for sale, the more the value per acre dropped.
"With blocks of five, 10, 15 or 20 acres it is not surprising if they go for £6,000, £7,000 or even £9,000 an acre.
"But we recently sold a 78-acre (31.5 hectare) block of land near Haverfordwest for around £4,000 per acre".