Triplet drivers Dan, Rebecca and Melissa Lewis car joy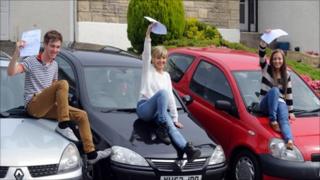 A set of 17-year-old triplets who all passed their driving test have each been given cars by their parents.
Dan, Melissa and Rebecca Lewis, from Heol y Cyw, near Bridgend, earned their licences within weeks of each other.
The gifts, and lessons, cost Sandra and Andrew Lewis £14,000 but the couple say it was worth it to have their "freedom" from ferrying the trio around.
Mrs Lewis said: "The three of them are going in different directions and we were constantly on the road."
The siblings all passed first time, although middle child Melissa had to wait two weeks longer than the other two because the test schedule was full.
Mrs Lewis said: "She's the more feisty, so the air would have been blue if she had failed.
"They are different characters but she is the most determined. But she was nervous.
"She was begging for lifts [after Dan and Rebecca passed and received their cars] and if she was a bit cheeky they refused to give her lifts. It was a cruel time for her."
The triplets were born after the Lewises had IVF treatment.
Mrs Lewis said: "The first couple of years were a blur. We had to have a triple buggy specially made, which was expensive.
"We had to sell my husband's beloved Escort RS 2000 turbo. He loves his cars. It was his passion. We had to sell that and get an estate, which was a bit of a come down for him."
"Rebecca has always been very quiet. Melissa has been the dominant one that has taken charge and Dan is just easy going and laid back.
"They haven't been sickly or ill babies but they have been slightly smaller than other children up until the age of about 12.
"But Daniel has really sprouted. He's nearly 6ft tall and is taller than my husband and is absolutely sports mad."
Businessman Mr Lewis said having three children at once was "a major shock and a major expense" with sometimes only an hour to snatch some sleep between night-time baby feeds.
And he said the car that he sold was "my love, my passion".
He added: "I was gutted. I've got a decent set of wheels now."