University clearing places in Wales fill up fast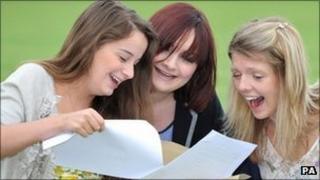 University places in Wales are filling up fast through the clearing system but there are still some courses available.
Several universities said on Friday they had few spaces remaining, including Swansea and University of Wales, Newport.
Cardiff and Bangor are full but there were still places available at University of Wales, Trinity St David.
The clearing system seeks to fill courses with youngsters whose A-levels fell short of their original offer.
Aberystwyth was the only Welsh university that did not take part in clearing.
Cardiff announced it was full on Friday, while Swansea Metropolitan said it had now closed most of its courses other than engineering, but was advising students that an option worth considering was part-time study.
Swansea University said there were "very limited places" but added that prospective students should still get in touch.
The University of Glamorgan, which has campuses in Pontypridd and Cardiff, said it had some vacancies on a few courses, particularly for engineering and technical-based subjects.
"We are open over the weekend and would encourage suitably qualified students to give us a call," said a spokesperson.
Richard Moremon, director of marketing and communications at UWIC in Cardiff, said the university had taken more than 1,000 calls in the first hour alone on Thursday.
This was three times the number during the same period last year.
"We currently have a limited number of spaces available via clearing on a few courses such as BA graphic communication, BA illustration, BA business and management studies, BSC food production management," said Mr Moremon.
"Spaces are going quickly and we anticipate that these will have been filled by the end of today. It would still be worth checking the UWIC website for information."
Glyndwr University, Wrexham, said inquiries were continuing to run at a much higher level than last year.
'Filling quickly'
"We're still waiting for acceptances on a lot of offers," said a spokesman.
"We still have places available, mainly in management courses, creative industries, computing and art and design. We're getting very close to filling all the places in engineering."
The University of Wales, Newport said it was "all but full" but was encouraging people to phone "so we can offer advice".
Trinity St David, in Carmarthen and Lampeter, has wider availability but courses are said to be "filling quickly".
Luke Young, National Union of Students Wales president, said: "Sadly, there will be some people today realising that their first and second options are not going to become a reality.
"I would stress that they should seek clear and accurate advice to make sure they feel comfortable when making decisions about their futures."
He said it was important to "ensure that everyone is given the best opportunity to go into education, employment and training" and sufficient support was needed so that nobody "falls through the gap".