Wales A-levels: Andrew RT Davies slates performance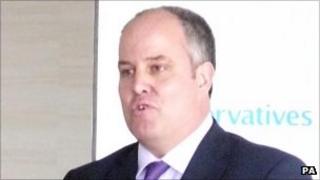 The education minister was "denying the obvious" in his assessment of this year's A-Level results, says the Welsh Conservative leader.
Leighton Andrews said the performance in Wales was excellent, despite it falling further behind the rest of the UK on every measure.
He also wanted the Welsh Baccalaureate to be taken into account.
But Andrew RT Davies said: "Regrettably we are propping up the league table on A* and A grade A levels."
When the results in Wales were published on Thursday there was a fall in the percentage of top grade A-level results, the lowest since 2006.
Students with A*s fell from 6.5% to 6.3%.
The proportion with A grades fell from 24.4% last year to 23.9%.
Speaking on Thursday, Mr Andrews said: "This is a great day for students in Wales.
"The results are up overall, we've got more young people doing well, we've got an increase in the grades A* to C.
"We are very pleased fewer young people are leaving school without qualifications.
"This is a day to celebrate the success and hard work of students, teachers and the support they've had from their parents."
Mr Davies, elected Tory leader in Wales last month, said Mr Andrews was right to point out that student success and teacher success should be celebrated.
But he added: "The figures speak for themselves.
"Sadly, the grade levels in Wales are further behind the rest of the UK and there is a further gap between boys and girls."
Mr Davies said he hoped Mr Andrews could have been more imaginative in some of his responses in the light of the results being published.
"It is regrettable and it does strike you almost of a former Eastern European dictator denying the obvious," he said.
Mr Davies described Mr Andrews as "a minister under pressure".
"He's promised much and delivered little," he said. "And now obviously a few things are coming home to roost for him.
"I hope he will be more imaginative than some of his outbursts over the last two days.
"In the cold light of day we need to reflect and have a reasoned discussion about what we need to be doing."
The Welsh Baccalaureate is an alternative recognised qualification. Students must still pass at least two A-levels to obtain it, but they also take part in work-related education and voluntary work, and academic studies including politics and languages.