Funeral of Huw Ceredig, actor and star of Pobol y Cwm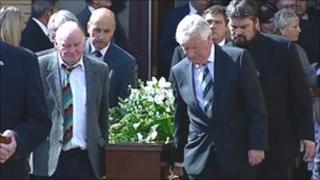 The funeral of actor Huw Ceredig has been held in Bridgend.
The 69-year-old, who died on Tuesday, was best known for playing Reg Harries in the Welsh language drama Pobol y Cwm for 29 years.
He also appeared in Emmerdale, Heartbeat, Z Cars and Doctors and his film credits included Rebecca's Daughters and cult comedy Twin Town.
Hollywood star Ioan Gruffudd, who played the part of his son in the soap, was among those to pay tribute to him.
Born in Brynaman in Carmarthenshire, he was the brother of Plaid Cymru politician and singer Dafydd Iwan and Welsh assembly member Alun Ffred Jones. He also leaves another brother, Arthur.
Gruffudd said: "Without a doubt, he was one of the greats on our small screen and one of the Welsh giants.
"He taught me how to behave as a young actor, how to learn my lines and how to be professional and above all how to enjoy."
The funeral took at Bridgend Tabernacle on Monday afternoon.
Keith Jones, director of BBC Wales, which makes Pobol y Cwm for S4C, said Ceredig had made a huge contribution to the long-running series.