Wales' high streets see biggest footfall decline in UK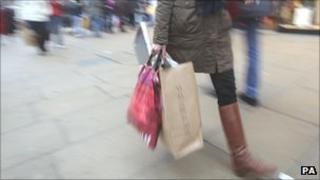 The number of people visiting high streets and shopping centres in Wales has declined more than any other part of the UK.
Figures published by the British Retail Consortium reveal footfall in Welsh towns and cities dropped by 9.2% between April and July.
The UK average footfall was down 1%.
A spokesman for the Welsh Government said it was "committed to regenerating our town centres."
Across the UK, falling numbers of shoppers were driven by a 1.9% drop in people visiting out-of-town complexes, although the number of people entering shopping centres in towns or cities rose by 0.6%.
Over the past 12 months high streets on average have seen the highest drop in footfall (2.6%), compared with shopping centres both in and outside towns.
July's footfall rose for all types of shopping locations compared to June, due to the combination of summer sales and the start of the school holidays.
Dr Jonathan Deacon, a reader in marketing and entrepreneurship at the University of Wales Newport, said the figures were no surprise.
"The figures do suggest that in areas where there is a high dependency upon the public sector the economy is going to be hit potentially harder and earlier and hence that's going to bleed through into retail figures," he said.
"Don't forget that Wales is at the bottom of the prosperity league as far as the UK is concerned."
Financial insecurity
High inflation and household financial insecurity were blamed for a fall in consumer confidence.
But Julie Williamson, who is vice-chair of policy for the Federation of Small Businesses in Wales and owns the First Call coffee shop chain in Swansea, said the "high percentage of public sector employees" in Wales was also a likely contributing factor.
She added: "I do feel in Wales that we are not out of the recession yet as they are in other areas in England."
Stephen Roberston, director general of the British Retail Consortium, said: "In July, all types of shopping locations saw reduced footfall year-on-year and that was before the effect of this month's disturbances in England.
"Fewer people are shopping because households are facing high inflation, low wage growth and uncertainty about future job prospects. But that's slightly offset by hard-up customers spreading their spending over more but less costly shopping trips.
"By both measures, Northern Ireland and Wales are suffering particularly badly."