Welsh Tory leader urges MPs' vote on fox hunting ban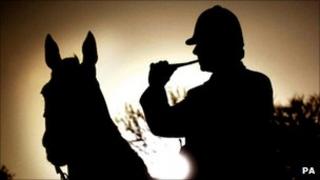 The leader of the Conservatives in the Welsh assembly has called on his Westminster colleagues to deliver their promise to hold a free vote on overturning the fox hunting ban.
Andrew RT Davies said he expected the UK government to honour its coalition agreement pledge.
Tory MPs are divided on the issue, despite it being a part of the party's 2010 general election manifesto.
The RSPCA said repealing the ban would be a "backward step".
The South Wales Central AM believes his party should honour its commitment to bring a motion on the repeal of the Hunting Act 2004 before the House of Commons.
Mr Davies said: "I do believe that if politicians make a commitment they should do all in their power to see the commitment through.
"If politicians say something and put it in writing, they should endeavour to deliver on that," he added.
Mr Davies, who runs a farm near Cowbridge, Vale of Glamorgan, said local hunts provided a valuable service in rural Wales by removing the carcasses of lambs and calves, and any further reduction in hunting would hurt businesses in remote areas.
Fellow Tory and farmer Glyn Davies said that "government, wherever possible, should deliver on its promises".
The Montgomeryshire MP wants to see the repeal of the legislation, but can see both sides of the argument.
He said: "I think it is a very poor ban and it makes a mockery of the legal system... I think there is a case for repealing the ban and I support that."
But he added: "There is also a case for not repealing. There's a danger if it was repealed all the activists would be back out and it would become a contentious issue in society again."
'Backward step'
Vaughan Gething, AM for Cardiff South and Penarth, said: "Whilst Welsh Labour is focussing on delivering for rural communities on issues that matter, the Welsh Tory group leader is struggling to make the leap from aimless backbench posturing to proper opposition.
"It's astonishing that while the Welsh public are worrying about jobs, housing, and rising living costs, Andrew RT Davies is talking about a Westminster vote on fox hunting.
"This really shouldn't be anywhere near the top of his priority list, not least because the issue is not devolved."
The RSPCA has said that repealing the ban would be "a backward step for a civilised society".
John Rolls, RSPCA director of policy, said: "Our message has never changed and it never will - hunting is cruel.
"It disturbs me that this could ever have been seen as a sport."
Fox hunting was banned in Wales and England in 2004 by the then Labour government in Westminster.