Safer Wales asks hate crime victims to report abuse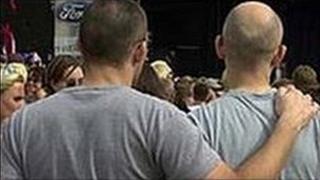 Campaigners say the number of recorded incidents of hate crime in Wales could reach 9,000 if more cases were reported to the authorities.
The Safer Wales charity and the Welsh police forces have launched a campaign to urge victims to report abuse against minorities.
Latest figures show that more than 1,900 cases of hate crime were reported in Wales.
But Safer Wales said the real figure could be much higher.
Mark Williams, project manager for anti-hate crime for Safer Wales, said: "What we are saying is that research shows that actually less than one in four cases of hate crime actually get reported.
"So realistically if you look at these figures it's probably more like 9,000 cases, if not more.
"In some areas such as disability, one in 10 cases get reported to the police."
About 52,000 cases were reported in the UK over the same period between January and December 2009.
The Report Hate posters will be displayed in libraries, community centres, places of worship and doctors' surgeries from Tuesday.
Michelle, from west Wales, has had first hand experience of discrimination suffered by transgender people and said she was "aware constantly" of people giving her "funny looks".
"I think whether any incident is taken to court is irrelevant," she told BBC Radio's Good Morning Wales.
"What is important is to get people reporting because otherwise it remains hidden, it remains unknown," she said.