Singer Katherine Jenkins tells fans 'avoid album'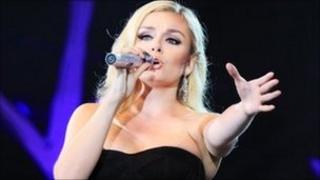 Katherine Jenkins has told fans to avoid a new compilation album of songs released by her former record label.
The singer from Neath says the release called One Fine Day by Decca Records does not have any new material on it.
She says she has not recorded anything for the label since 2008 and does not want anyone buying it to "feel conned".
Decca said the collection would celebrate her "extraordinary ongoing career".
Jenkins wrote on her Twitter site: "Just heard that Universal @DeccaRecords are putting out YET ANOTHER compilation album of my music called One Fine Day.
"Considering that I haven't recorded 4them since 2008, there is NO new music & it's stuff u already have. Don't want u 2 feel conned."
Six-album deal
She said she was releasing a new album of fresh material called Daydream through Warner Music.
"Make sure you get the right one!" she wrote.
The mezzo-soprano signed a six-album recording contract with Universal in 2000. She then signed for Warner in 2008.
A spokesperson for Decca, which is owned by Universal, told the BBC: "Decca is delighted to be releasing a new collection of favourite Katherine Jenkins songs this autumn, coupled with a special bonus DVD, to celebrate her extraordinary ongoing career and artistic progression."