Wales Tourism Alliance: 'Very mixed' summer for tourism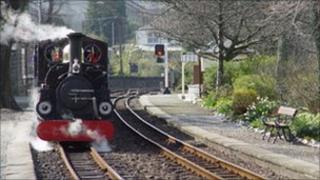 Attractions across Wales have had a "very mixed" summer, according to tourism experts.
Some businesses have seen the number of visitors increase substantially as more holidaymakers stay closer to home due to the economic downturn.
But others have seen a decrease in daily footfall and spending on site.
The Wales Tourism Alliance predicted an overall decrease in spending "as families tighten their belts due to the macro-economic climate".
Executive director Adrian Greason-Walker said: "It seems the season has been very mixed. Some businesses have fared okay.
"But I suspect when the figures for this quarter are out, although we will probably see an increase in footfall at free admission attractions, we will possibly see a fall in admissions to paid attractions on the same quarter last year and a fall in secondary spend."
In north Wales, Ffestiniog & Welsh Highland Railways, based in Gwynedd, and Bodelwyddan Castle in Denbighshire, both recorded an increase in visitor figures compared to summer 2010.
Castle spokeswoman Morrigan Mason said that although the figures for August, which represents 20% of the attraction's visitors for the whole year, have not yet been compiled, "we've got a feeling that it's gone up...our visitor figures are up 3.5% on last year for April, May and June".
But she also reported a decrease in visitors' spending on site.
"People are tending to come out with picnics, not buying gifts in the gift shops. This seems to be a trend - visitors are up but spending on site is down," she said.
"We usually see between 7,000 and 8,000 visitors for August. If the weather is grey but dry we have a fantastic turnout. If it's really hot beach weather we don't get as many visitors," she said.
Rise in staycations
Andrew Thomas of Ffestiniog Railway said visitor figures had increased as "quite a lot of people are staying in the UK this summer".
"We haven't got figures for August yet but this July we carried 55,000 passengers, which is about 12% up on July 2010," he said.
But not all businesses fared so well, with attractions in other areas of Wales seeing visitor numbers fall or stay the same as last summer.
Dorothy Devereux of Felinwynt Rainforest and Butterfly Centre near Cardigan said the centre was around 20-30% down on last summer.
"People are being a bit more careful at the moment," she said.
But she added that other businesses in the area seemed to be experiencing the same problem.
"We're on the west Wales coast near Cardigan and everyone we've spoken to in the area are saying that people aren't spending," she said.
"We should be getting 150-200 people a day, but the most at the moment is around 149."
Llinos Richards of the Welsh Wildlife Centre in Cardigan said visitor numbers were roughly the same as in 2010.
"August is a particularly busy time for us and the summer holidays are our peak time," she said.
"The last fortnight has been quite busy. We usually get about 22,000 visitors per year, with the majority in July and August."
Hilary Kennelly of the West Wales Museum of Childhood said: "I would say that the traditional July/August has been less but not desperately less, just a bit of a dip."
But she added that visitors have actually been spending more, once they get through the doors, and settle on "proper destinations rather than dashing around visiting different places in one day".
"Our visitor numbers are totally random. It's impossible to say how many people we will get on a day, it can be anything from 20 to over 100," she said.
"And 10 people can spend £50 each but 100 might spend only a few pounds each."
Pembrokeshire's Folly Farm performed well, with peak season comparisons showing a 10& increase on the previous year.
A farm spokeswoman said: "Compared with last year's visitor numbers Folly Farm has been up considerably and smashed several daily attendance records with numbers in excess of 7,800 on the character appearance days with Peppa Pig and Fireman Sam."
At the Big Pit National Coal Museum in Blaenavon, spokeswoman Kathryn Stowers said the museum anticipated 24,000 visitors for August, which "is down slightly on where we were at last year".
But 2010 had proved a tough year to beat, with the museum seeing "record figures because the National Eisteddfod was in Ebbw Vale and a lot of the Eisteddfod-goers visited Big Pit".