Local TV: Jeremy Hunt hosts Newport summit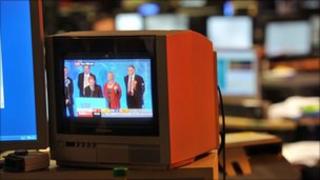 UK Culture Secretary Jeremy Hunt is hosting a summit in south Wales to explain how local TV could benefit communities.
Earlier this month Mr Hunt revealed the 11 towns and cities that could pioneer local TV services in Wales.
The Newport event is being attended by potential bidders, media companies and politicians.
Welsh independent producer organisation Tac said it hoped he would clarify how his plans would work and be funded.
The culture secretary revealed on 9 August that licences for the UK's first local television services would be advertised later this year.
Under the UK government's plans more than 800,000 homes across Wales could get new local TV services, he said.
Those able to bid for licences include Cardiff, with coverage to include Bridgend and Newport; Mold, which includes Denbigh and Ruthin, and Swansea with Llanelli.
Bangor, Carmarthen and Haverfordwest can also bid.
Mr Hunt said he would urge local communities to make their case to be included in the first wave, and the first licences would be awarded next year.
The licence fee would finance some start-up costs, he said, but advertising was likely to fund the services.
The towns and cities chosen would receive local TV from existing transmitters.
Speaking at the time of the announcement, Wales Office Minister David Jones MP said the plans had "huge potential" for how Welsh towns would access news.
Friday's summit is at the city campus of the University of Wales, Newport.
The event was cautiously welcomed by Mr Garlick, Tac chair, who said: "It's still unclear as to how it really works so it's probably a good thing there's going to be a summit, as we might get some clarity.
"In the end any potential avenues for work are to be applauded.
"We are just unclear as to how it works, and even more importantly how it's funded - and that in the end is the bottom line, isn't it?"
Cardiff-based media firm Cube Interactive has already submitted an expression of interest to run a local TV network in the south Wales area.
Its chief executive Wil Stephens said local television would mark a step-change in how TV is delivered, and provide a watershed for those involved in the industry.
"The solution for local television will look radically different from current traditional models," said Mr Stephens.
"It will be based on a strong partnership between the public sector and the community, underpinned by a solid commercial operation.
"Those seeking a handout from the government and a continued guaranteed source of new income will be sadly disappointed."