Paraglider Steve John, 42, dies after Newgale accident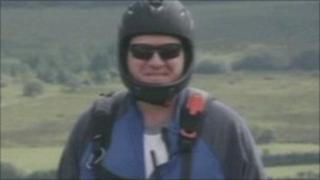 A tribute has been paid to a paraglider who died after an accident on a Pembrokeshire beach.
Steve John, 42, from Milford Haven was called a "tremendously funny, caring, warm family man" who excelled at many outdoor sports.
Nick Bamber, from the Pembrokeshire paragliding school and club, said Mr John would be "sorely missed".
He was airlifted to hospital after the incident at Newgale beach, near Haverfordwest, on Sunday.
Mr Bamber said: "The whole paragliding community is reeling with the shock of this awful tragedy. Many of us there on the hill that day. Steve was a fantastic, well loved and very outdoorsy guy."
Mr Bamber told BBC Radio Wales Mr John had been very unlucky and flown into a patch of rough air.
"It wouldn't be appropriate to comment on the specifics of what happened because that is subject to a full investigation both by the national paragliding organisation and the police. I feel, nonetheless, that it was just a tragic accident."
He said Mr John was relatively new to the sport but had learnt quickly, was a qualified pilot and experienced diver who was "very passionate" about his outdoor activities.
"He had learnt very effectively and being the expert diver that he was, that had helped him with his learning progression with the sport."
He said his thoughts went out to his family and he would be "truly and deeply missed".
Dyfed-Powys Police later confirmed his name and said his next-of-kin had been informed. Any witnesses are asked to contact Haverfordwest Police station on 0845 330 2000.