Old South Wales fire engines to start life in Serbia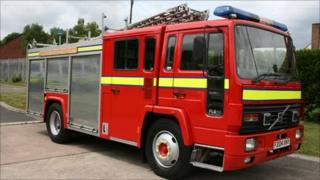 Redundant fire engines from south Wales are to be given a new lease of life in Serbia as part of a project to improve its fire service.
Crews in south Wales are raising money to drive the trucks across Europe after the region's fire authority approved the scheme.
Over three years, 24 engines will be sent to Serbia, with 11 expected to arrive in the first batch in October.
One of the service's old fire engines went to Serbia last year.
Firefighters want to raise about £2,500 for each engine transfer, with costs going on diesel, breakdown cover and the English channel crossing.
The decision to recycle unwanted appliances, rather than scrap them, comes as the service is about to take charge of several new engines.
British standards
They will replace ones in use for the last 15 years.
Steve Logan, commander of Caerphilly fire station, said: "The fire engines that stand to be disposed of are at the end of their working life under British standards.
"But in developing countries like Serbia, what we consider end of working life, I think they consider is their infancy.
"Because we have this natural replacement programme, in my opinion, it's criminal to scrap those vehicles and not be able to give them a new lease of life."
Many of the fire trucks in Serbia are thought to be about 30 years old.
An old fire engine from south Wales was sent to Serbia last year.
The 3,000-mile round trip was made by firefighters who raised £1,500 for the journey.
South Wales Fire and Rescue Service deputy Chief Fire Officer Huw Jakeway said: "This is an ethical way to use end of life appliances and equipment while supporting developing countries.
"It is an ambitious programme that requires a great deal amount of financial support that will need to be raised through sponsorship and local fund raising events.
"It is great to see young people wanting to make a difference to country so far away."