Stena Wales-Ireland fast ferry halted over fuel costs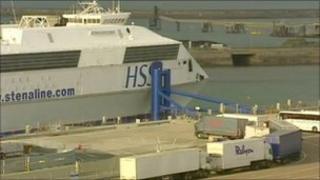 Ferry firm Stena Line is suspending its fast service between Wales and Ireland from mid September until 2012.
The company has blamed the rising fuel costs of the two-hour sailing of the HSS Explorer between Holyhead and Dun Laoghaire.
A 30-day consultation with three unions representing 88 staff begins on Wednesday.
The firm said it would continue to run two traditional ferries between the two ports all-year round.
Stena Line said it was reducing its fast-ferry Holyhead to Dun Laoghaire operation to a seasonal-only service because it has been losing money for several years due to its high fuel and maintenance costs.
It said there was little freight traffic and 73% of the route's turnover in 2010 was generated between May and September.
Financial losses
The fast service, which operates one sailing a day, will be suspended from 13 September.
Stena Line's area director for Irish Sea business, Michael McGrath, said: "Despite all our attempts to reduce operating costs over the last few years, it has not been possible to return the route to profitability.
"The vast majority of revenue from the fast craft service is generated from car and coach guests and is received during the peak summer trading period.
"We simply cannot continue to sustain these levels of financial losses."
The firm said the roll-on/roll-off passenger (ropax) vessels on its other routes brought in freight income 52 weeks of the year.
Mr McGrath said: "We believe the combination of our two ropax vessels operating from Holyhead to Dublin, combined with this seasonal fast craft service between Holyhead and Dun Laoghaire will provide our customers with the capacity and frequency that the market requires."
Last week Fastnetline, the operator of the Swansea to Cork ferry, said it was cutting return sailings during the winter months from three to two each week.