Royal Mail misses targets in four Wales postcode areas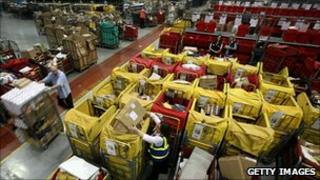 Royal Mail has apologised to customers after the latest figures showed it missed first class delivery targets in more than half Wales' postcode areas.
Watchdog Consumers Focus Wales said the Llandrindod Wells, Newport, Deeside and North West Wales postcodes fell short of the 91.5% target from April to June.
Royal Mail said it had "teething problems" while making "major changes".
Consumer Focus Wales said the public deserves to see improvements
The Llandrindod Wells postcode (LD), covering Llandrindod Wells, Brecon, Builth Wells and Knighton came out lowest in the figures, with only 88.7% of post meeting the local postcode sector target of 91.5% for next day delivery of first class mail.
The Newport and Gwent postcode, NP, was second worst at 88.9%.
A total of 89.7% first class mail in North West Wales postcodes, LL, were delivered on target. For Deeside addresses in the CH postcode, the figure was 90.8%.
The figures showed the target in the Newport postcode area has not been met in six of the nine last quarters, it said.
Ian Edwards, director of collections and delivery for Wales, singled out Newport as an example of the biggest operational changes at Royal Mail "in living memory".
He said: "We have recently transferred the manual [sorting] of mail in Newport - the last office of its kind in the UK - to our automated mail centre in Cardiff. This will enable us to make better use of our mail sorting technology.
"The scale of the changes in Wales and in the rest of the UK, sometimes leads to some teething problems, which can have a temporary impact on quality of service.
"We apologise to any customers for any service which falls below our targets, which are among the highest standards in Europe."
'Disappointing'
Rebecca Thomas, of Consumer Focus Wales, said: "Royal Mail's performance on first class post in Wales for the first quarter of the [financial] year is disappointing.
"The company says its modernisation programme has affected performance. The programme has been running since April 2010 and we would expect any teething problems to be over by now.
"The price of stamps has increased significantly in recent years to fund modernisation and consumers deserve to see improvements in the service," Ms Thomas said.