Union's anger at Stena Wales-Ireland fast ferry cuts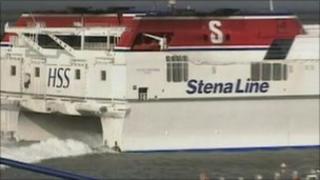 Union leaders say they will fight plans to cut Stena Line's fast ferry service between Holyhead and Dun Laoghaire to a seasonal service.
The ferry operator says the decision is necessary because of rising operational costs.
The RMT union said the firm previously said there would be no cuts and that it will push for longer consultation.
Stena Line said it would continue to run two traditional ferries between the two ports all-year round.
A 30-day consultation with three unions representing 88 staff begins on Wednesday.
Stena Line says the cuts affect 77 staff, 53 crew and 24 workers based at Dun Laoghaire.
On Tuesday Stena Line announced it was suspending the high-speed HSS craft until 2012 from 13 September.
Stena Line's area director for Irish Sea business, Michael McGrath said the firm has been losing money for several years due to its high fuel and maintenance costs.
'Bitterly disappointed'
Steve Todd, national secretary of the RMT union, which represents some Stena workers, said he believed the number of staff affected was higher and said the union would be pushing for a longer consultation period.
"I'm bitterly disappointed and also very angry with the amount of time the company have taken to make this announcement," he told BBC Radio Wales.
"We did ask the company back in November last year what their future plans for further cuts were and Mr McGrath quite categorically answered 'no'.
"We're pretty angry about the state of affairs and the way people have been left in the lurch.
"This is an area which is deprived of job opportunities."
Harbour contract
Stena Line has said there was little freight traffic and 73% of the route's turnover in 2010 was generated between May and September, but Mr Todd disputed this.
He said: "There was the closure of the service between Liverpool and and Dublin which has led to, I believe, an increase in volume of freight and I would estimate that's bringing the company a further £7-8m a year and the price of fuel is dropping back all the time.
"They have also negotiated the harbour contract with Dun Laoghaire harbour which has reduced their costs significantly.
"We would rather see action to preserve more jobs, but I would argue that the route is making more money than it was before."
Announcing the decision on Tuesday, Mr McGrath said: "Despite all our attempts to reduce operating costs over the last few years, it has not been possible to return the route to profitability.
"The vast majority of revenue from the fast craft service is generated from car and coach guests and is received during the peak summer trading period.
"We simply cannot continue to sustain these levels of financial losses."
Meanwhile, Anglesey Assembly Member Ieuan Wyn Jones said he was extremely disappointed at Stena Line's decision.
"Jobs are vital in the current economic climate and anything that threatens jobs in Holyhead and Anglesey is a major concern for me," he said.
"I very much hope that this is only a short-term measure but in the meantime I have already written to Stena urging them to make every effort to minimise the numbers of compulsory redundancies. We can't afford to lose jobs on Anglesey.
"I hope that Stena will look gain at the profitability of the route if and when fuel prices stabilise or start to come down."
The firm said the roll-on/roll-off passenger (ropax) vessels on its other routes brought in freight income 52 weeks of the year.
Last week Fastnetline, the operator of the Swansea to Cork ferry, said it was cutting return sailings during the winter months from three to two each week.