Carrier bag 5p levy needs rethink say businesses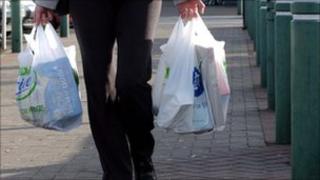 Leading retailers and pharmacists have called for a rethink about the carrier bag charge in Wales, a month before it is introduced.
Firms faces penalties of up to £5,000 if they give away single use bags for free as they will be breaking the law.
Businesses have also called for a "soft touch" approach to how the 5p levy on shoppers is enforced.
The Welsh Government said there would be a three-month "bedding in" period for shoppers and retailers.
On 1 October, Wales will become the first of the UK countries to bring in compulsory charge for single-use carrier bags.
Community Pharmacy Wales, which represents 708 pharmacies, says there are gaps in the plans.
Chief executive Russell Goodway said: "Local pharmacies will have to start introducing new arrangements asking patients for additional money based on rules that are far from clear and, in some cases, still not published."
He said the 5p charge would apply to some bags with some medicines in and not to the same bags with other medicines in.
"With only a month to go, we are still discussing details with officials and that does not give sufficient planning time for businesses," he added.
"Even at this late stage, we ask ministers to think again on imposing this tax on healthcare in Wales."
The Federation of Small Businesses also said more information was needed for shoppers on what will happen.
Firms will have to keep track of the number of bags they hand out and, unless they employ fewer than 10 people, will be obliged to account for how the proceeds from the carrier bag charge are used.
Smaller outlets will still be required by law to pass the money on to environmental causes or charities.
Businesses can charge more than 5p for bags but the charge cannot be less.
Janet Jones, chair of the Federation of Small Businesses (FSB) Welsh Policy Unit, said: "The Welsh Government needs to make sure that the charge is advertised as widely as possible and that there is a soft touch with regard to enforcement.
"It is important to allow small businesses to embed this in a suitable way.
"It is also key that shoppers embrace this change as part of a strategy for a sustainable Wales - this can only be done by gaining their support and backing for the charge."
'Real point'
Shoppers in Wales took home an estimated 350 million bags in 2009.
Bob Gordon, head of environment at the British Retail Consortium, said many retailers had made preparations to comply with the law.
He told BBC Radio Wales: "This will reduce the number of bags that are taken in Wales.
"The challenge will be people will forget their bags and then they will have to pay for a bag and that will frustrate them.
"It will in the short term, maybe in the medium term, add some costs for shoppers."
The Welsh Government said a mailing pack was sent out to 40,000 retailers and businesses at the end of last week.
It was a follow up to a main information pack sent out earlier this year, while all the information on the issue is on its Carrier Bag Charge website.
A spokesperson said the planned charge was announced in 2007 and its introduction was delayed by six months to accommodate the requests of retailers.
The spokesperson said: "Recent figures show that carrier bag use is still falling in Wales, while in other parts of the UK it is on the increase, and this is because people here know about the charge and are actively preparing for it.
"On enforcement we have already said that there should be a three-month bedding in period for the carrier bag charge whilst retailers and customers get used to it and that enforcement action should be avoided in this period.
"However the real point of the charge is to stop people taking a bag every time they go shopping. We want to see shoppers avoiding the charge wherever possible by reusing their own bags."