Parents 'should pressure' schools on food hygiene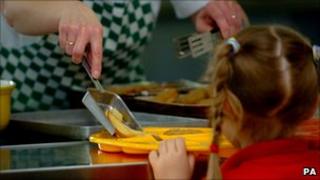 Parents should put pressure on schools which have a low rating of food hygiene standards, says a consumer watchdog.
Consumer Focus Wales said as schools prepared to reopen next week, latest figures show 48 education premises had low Food Standard Agency ratings.
It has called for more transparency about why a low rating is given for food hygiene and urged parents to demand improvements where necessary.
Councils said the issues were being tackled.
Consumer Focus Wales revealed the figures ahead of youngsters returning to school after the summer break.
The wider issue of food hygiene was highlighted again in August after an outbreak of E. coli in south east Wales that led to nine food poisoning cases, and an left a further nine under investigation.
A Cardiff takeaway at the centre of the investigation reopened last week.
The outbreak prompted calls for restaurants and takeaways to be forced to display food hygiene ratings.
There are about 2,000 schools across Wales, not counting private nurseries and play groups.
Consumer Focus Wales said parents should check the hygiene rating of their local school and ask for details if the premises land a Food Hygiene Standard rating of two or below.
It said the 48 education premises currently listed with that rating included schools, colleges, nurseries and playgroups.
A quarter of the premises, 12, were based in the Cardiff area, while 11 were in north Wales. Six of the schools were in Newport and five were in Rhondda Cynon Taf.
Consumer Focus Wales policy head Liz Withers said: "There can be no excuses for them failing the vulnerable groups of children and young people they serve.
"While we are not saying parents shouldn't let their children have school dinners or snacks this coming term, we encourage those whose local school, college or nursery requires improvements to put pressure on them and the local authority to raise food safety standards.
"They can do this by demanding information about what action will be taken to improve the rating and to see inspection reports from environmental health officers in order to find out the reasons behind these poor ratings."
'Structural issues'
Professor Hugh Pennington, who headed a 2009 inquiry into an E. Coli outbreak in schools in the south Wales valleys, told BBC Radio Wales it was "disappointing" there was a problem with a small number of schools but he said the majority did a good job.
"The whole point of having this system is attention is drawn to somewhere that needs action," he added.
"A kitchen that scores one - the lowest rating you are still allowed to operate under - needs major major action and a two needs action.
"It might be the need for better premises, it might be they need more staff, some of the staff need more training - those are the sort of things that will be being discussed.
"It is an ongoing process which I think should reassure parents. These schools that are not scoring as well as they should are under a pretty close microscope."
A Cardiff Council spokesperson said: "The food hygiene rating reports received by Cardiff council reflect the fabric of the buildings which were inspected as well as food safety management issues.
"Cardiff Catering, which supplies meals at these premises, takes these matters very seriously and is working to ensure all food safety requirements are met."
Newport council said "structural issues" highlighted by inspection of one premises in its area were being resolved this month.
Issues at other premises had been dealt with as quickly as the day following inspection, a spokesperson said.