Aberystwyth harbour oil pollution source found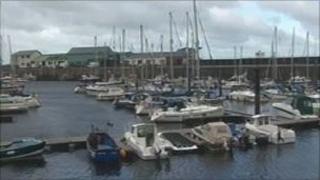 The source of oil which polluted Aberystwyth harbour has been found, says Environment Agency Wales.
The red diesel oil spill has been traced to a nearby company, which has not been named, but the investigation into the cause is continuing.
Officials said the pollution had stopped but "residue" in the sewerage system could still get flushed out and enter the harbour.
Traces of the pollution have also been reported on Aberystwyth South beach.
On Monday, Public Health Wales and Ceredigion County Council were advising people who were staying on boats in the area to seek alternative accommodation.
They also said it might be advisable for residents to keep doors and windows closed.
The oil caused a "visible sheen" on the water, and odour problems had persisted in the area but officials expected the situation to improve.
The agency was notified of the spill by the Aberystwyth harbour master on Saturday morning.