Welsh riot police still on duty on London streets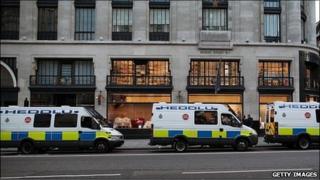 A month after riots in cities in England, Welsh police are still helping colleagues in London.
One team just back from the city have spoken of their experiences and the shock of entering a "war zone" when the trouble broke out.
South Wales Police are still working in London with two units, 27 officers each, travelling there this week.
The Home Affairs Select Committee started hearing evidence in their inquiry into the riots on Tuesday.
Images shown on TV screens failed to show the magnitude of what was going on, said officers.
"We worked the day shift as normal here in Bridgend, then had a phone-call at midnight saying 'you need to get into work, you're running a team in London," said Inspector Stephen Rees, from South Wales Police.
Sgt Mark Davies was one of the first of the Welsh police officers to arrive in the city.
"As we were getting closer to London we were getting a bit quieter, building ourselves up for what we were going to," he said.
What they were going to was a "war-zone" with shops looted and burnt.
"The furniture shop was still alight, it was surreal," said Sgt Davies.
It was a case of waiting for the shop owners to come in and survey the damage.
"Watching their world fall apart in front of us," he added.
Inspector Andy Smith said the images shown on TV failed to show the magnitude of what had happened.
'Helping people'
"On the TV you see one shop at a time, and the camera pans away. You don't get the full effect of when you're walking on the street," he said.
"You see a burnt out shop, another burn-out shop, and there's burnt debris all over the place. It was like a war-zone, it really was."
The experienced officer said he was "shocked" what he had seen.
"The community was devastated with what happened.
"They came to give us information, they were giving us names and addresses of offenders and we passed them on to our Metropolitan colleagues."
He said the community has since "rallied around themselves, and us, to make things right again".
Spotting officers from Wales was easy during the riots, especially since their vans were branded in Welsh with Heddlu - meaning police.
"They were amazed to see Welsh police officers on their streets," said Andy Smith.
"They all thought Heddlu was some sort of special Met unit," he added.
They were asked so often what it meant that in the end one of the officers wrote in the dirt on the back of the police van 'it's Welsh for police', he added.
Although there was praise on make-shift message boards, on social networking sites, and the from the Prime Minister, it was what the people on the street said that mattered the most.
"By the end of the week we were all getting tired every time we went out and someone was stopping us, and bringing us right back up... and we felt we were helping people," said PC Matthew Cunnigham.
"It's definitely starting to get back to normal, but people are sort of concerned about how it's going to go from here," he added.
A spokesperson for South Wales Police said the officers sent to London on Monday would be returning to south Wales at the end of the week.
North Wales Police said officers had been assisting in London until recently.
They helped out in the centre of the city, as well as outlying areas such as Ealing, Peckham and Streatham.