RSPCA readies stranded Pembrokeshire seabirds for wild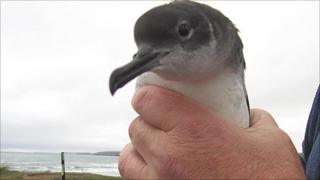 The RSPCA is hoping to release the first of hundreds of seabirds rescued from Newgale beach in Pembrokeshire.
The fledgling Manx shearwater were trying to migrate to Argentina when they were blown off course in a storm.
More than 300 birds were taken to the charity's centre in West Hatch wildlife centre in Taunton, Somerset, where they were being assessed for their fitness.
Centre manager Peter Venn said 25 birds were put on to two pools on Wednesday for possible release on Thursday.
He said: "That 24 hours is a critical period. It gives us a chance to assess them constantly for 12 hours and reassess them for the last 12 hours to see that they are floating well in the water and their feathers are in good conditions for the water."
Mr Venn said he hoped all of the 25 would ready for release.
The charity rescued almost 500 of the seabirds from the cliffs and surf at the Pembrokeshire site on Tuesday.
Some birds were still being collected as far inland as Llandeilo and Llandovery in Carmarthenshire on Wednesday in what the charity said was the biggest bird rescue in the area since the Sea Empress oil spill in 1996.
Around 100 were put down either due to injury or because it was considered they would not survive.
There are an estimated 170,000 breeding pairs of the birds on Skomer and Skokholm islands off Pembrokeshire.