Michael Dye coverage 'insensitive', say Cardiff City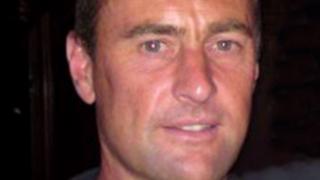 Cardiff City have complained to the Press Complaints Commission about some newspapers' coverage of the murder of a Wales and Bluebirds fan at Wembley.
Michael Dye, 44, from Cardiff, died after being taken to hospital with head injuries and suffering cardiac arrest before Tuesday's Euro 2012 qualifier.
Cardiff City say the Daily Mirror, Sun and Daily Mail newspapers "have acted insensitively".
BBC Wales has asked the newspapers concerned for a response.
Many fans on Cardiff City message boards have been critical of aspects of certain newspapers' coverage of Mr Dye's death.
Cardiff City said on Friday night it was referring the matter to the Press Complaints Commission, an independent body which deals with complaints about the editorial content of newspapers and their websites.
The club said in a statement on Friday night: "Cardiff City Football Club were disappointed to read articles in three national tabloid newspapers this week whereby we feel insensitive and unfounded connections were drawn from the tragic events at Wembley Stadium on September 6th, 2011.
"It is our opinion that the Daily Mirror, The Sun and the Daily Mail have acted insensitively towards the memory of Mike Dye at a time when his family are still in the early stages of mourning their loss."
Minute's silence
Cardiff City also said it was the club's view that tabloids had attempted to "draw tenuous connections of possible clashes between Cardiff City and Swansea City supporters at the Wales v England match without any direct evidence or basis for doing so".
"This is something that we consider to be extremely disrespectful to both clubs and supporters following many positive steps being taken between both clubs in recent years, specifically in light of the sympathies being shared by both clubs and all supporters over this tragic incident," said the statement.
"The club have taken this matter up with the Press Complaints Commission and will be contacting the tabloids named directly in due course."
Scotland Yard said on Friday no further action would be taken against six men arrested in connection with Mr Dye's death.
They were arrested on Tuesday night following the incident on the concourse before the match.
Police repeated an appeal for witnesses and said they were keeping an "open mind" about the motive.
Cardiff City players and fans are holding a minute's silence before Saturday's home game against Doncaster in a tribute to Mr Dye.
Wales boss Gary Speed will join both managers at the side of the pitch for the minute's silence.